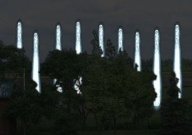 The Quebec Encounter - part 2
Posted on Thursday, 24 May, 2012 |
8 comments
Columnist:

Rob MacGregor
Sunday evening March 27, 2011. It was still very cold outside and I decided to stay down in the basement where I added logs to the wood-burning stove. I laid on the couch and watched TV while my wife Helene and our daughter Bridgette remained on the first floor watching television. My dog, Spot, a fox terrier, was laying in front of the stove on his pet bed, a favorite resting place. I expected him to remain there the whole night. Later my daughter came downstairs to her bedroom. That's when I turned off the lights, put some more logs into the stove, and fell asleep on the couch.
At 3 a.m., I was awakened by the sounds of Helene yelling and making noises. I stood up to see what was going on, and noticed that Spot was no longer on his bed. I went upstairs and headed to the master bedroom. The lights were on and my wife was standing beside the bed asking the dog to get down. Spot was acting very aggressive, showing his teeth, and refused to obey. We'd never seen him acting this way before. It was clear that something was going wrong with him… but what? Finally, with the help of a dog treat I was able to get his attention. As he came out of the bedroom for the treat, my wife asked me to take him down the basement and close the door. I did as she asked and laid back down on the couch.
I was awakened again at 4:50 a.m. by cries from my dog. He was standing in front of the wood stove trembling and shaking as he looked toward a window on the southeast side of the house. I usually wake up at 5 a.m. and let the dog outside, then feed him. By 5:30, I wake up my daughter and we drive together to the city where I work and she goes to college.
This morning, though, March 28, was different. Spot didn't want to go outside. Instead, he was trying to alert me to something unusual going on outside the house. I opened the door to the stairs. Usually, he races ahead of me, anxious to get outside. This morning, though, he wouldn't follow me, even after I called him. He continued to tremble and look toward the same window. I walked toward him and touched his right side gently to comfort him. That's when a strange feeling came to mind that he was going to die soon. After awhile, he calmed down and followed me up the stairs. I walked to the patio door, which faces east, and reached down for his leash.
That's when I noticed beams of light, very low in intensity, in the expansive field behind the house. I opened the patio door but the dog refused to come out. I grabbed him, forced him out and closed the door. As Spot passed our motion detector sensor, the patio spotlights came on automatically, illuminating the backyard. I couldn't see the light rays any longer so I hit the switch, turning off the lights. After a few seconds, my eyes adjusted and I saw the beams of light again. Now they were closer and much more intense. They seemed to get brighter and brighter, closer and closer, so close to my backyard. I counted nine of them, their beams reaching the ground.
The shapes of the beams were like ice cream cones, but inverted. They were brighter near the ground and lost intensity toward the top. If there was anything above the cone, I couldn't see it. I didn't have any idea what I was looking at. At first, I thought they might be solid acrylic tubes of light. They were all displayed asymmetrically in the large field. I could even see energy rising inside the beams. But the energy was not the same in each one, and they were not glowing identically. I had no idea what I was looking at, but it was beautiful. I actually felt paralyzed by the spectacle. I watched for a couple minutes then went back inside the house and called out to Helene. "Are you awake?"
When she answered that she was, I asked her to come out to the patio. I said, "Spot is outside and acting kind of strange. I think he could die, and I want to know if you see the same thing that I do."
We walked out to the patio door and looked out the window. "Wow, what is it, pyrotechnics?" Helene asked. "This is exactly what I told you about the other day. This is what I saw!"
My attention shifted to a vertical tube hanging just above our weeping willow tree to the right side of the yard. It glowed as brightly as lightning for a few seconds, then vanished, and reappeared again. Over and over. "Do you see that one to the right?" I asked. But Helene didn't respond.
I was amazed, almost paralyzed by the sight, but not fearful. Gradually, I was able to barely perceive a grey, steel-like structure on one side of the tube. I kept staring and on the last two illuminations of the tube, I saw something that seemed out of this world. I clearly saw beads of very bright white lights, shaped like O-rings or Cheerios that floated in the tube, but didn't touch each other. The tube itself now appeared a blue hue, but the O rings were bright white.
I opened the patio door, called out for the dog. Then I blacked out. That's the only way I can describe it. The next thing I knew, I was in the shower shampooing my hair. I was confused, acting like a zombie. I felt like I had a hang over. The pressure in my head was painful, a headache like never before. I wasn't scared, just confused. As I showered, I remembered what I'd seen in the backyard, but I wondered what I was doing in the shower and why I wasn't standing by the patio door.
I shaved, dried my hair, brushed my teeth, all as if on automatic pilot. Then I went back to the patio. It was still dark out, but the tubes of light were gone. I didn't even bother to look in the bedroom for Helene. I left with my daughter on time and drove to the city and got to work by 7 AM, right on time.
I sat in my office all alone, the door closed. I was looking at the floor, still feeling this huge pressure in my head. My eyes hurt. And then I started realizing what happened to us. No words could explain just how I felt.
These things were not supposed to exist. They were only supposed to be a product of Hollywood, American fiction. I was 49 years old and I started to cry and would do so repeatedly for month to come. I was stuck with a reality that does not exist for the majority of people.
I was now in mourning for my life and I started to become very frightened. As I sat in my office, I actually wished I had never been born. During the day, I even thought seriously about committing suicide. I felt as if I had been used, abused and controlled against my will.
They made the rules…they let me wake up my wife and then they controlled the game. Deep inside of me, I wanted to scream to let people know they exist. But I was scared that no one would believe me.
+++
The question skeptics often ask is why didn't you take photos of the lights. So I asked Charles that question.
"As I've told other people who have asked that question, I did not think at all about my camera, which was in the basement. I was 49 years old and I was not born with a cellphone in my hand, either, like the new generation. Also, it was 5 a.m. Plus, if you you see the Airbus A380 passing over your house at very low altitude, you do not run for the camera because it might not be there no more as you get back. Besides, after a point, I was no longer in control of my actions."
Article Copyright© Rob MacGregor - reproduced with permission.

Share:
---
- Rob & Trish MacGregor

http://www.synchrosecrets.com/synchrosecrets