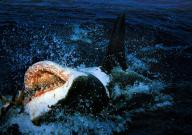 Is the Iliamna lake monster just a shark?
Posted on Monday, 28 May, 2012 |
4 comments
Columnist:

Taylor Reints
The Iliamna Lake Monster is just one of the hundreds of lake monsters and sea serpents reported all over the world. Or is it? A new theory by cryptozoologist Bruce S. Wright writing at the Alaska Dispatch suggests that a sleeper shark may be responsible for sightings of this monster, along with other sea serpents.
Sea serpents and marine monster stories have been told all over the world since humans have been able to talk; from the Loch Ness Monster to the Kraken of Greenland, from Ogopogo of Okanagan Lake to the lake monster of Alaska's Iliamna Lake. However, that doesn't necessarily mean that these sighting are really of monsters.
Cryptozoologist and writer Bruce S. Wright has recently introduced a new theory at the Alaska Dispatch in regards to the identity of the Iliamna Lake Monster, the theory stating that it is a misidentified sleeper shark (family Somniosidae). Sleeper sharks are rare and shy creatures.
In Iliamna in late summer of 2012, Wright plans to catch sleeper sharks and release them with satellite tags to track them. This is to see how long sleeper sharks can be in freshwater and their movements and migrations in and out of freshwater. Another expedition is scheduled for late summer 2013 to Loch Ness, to know whether or not Nessie can or cannot be explained by sleeper sharks.
Article Copyright© Taylor Reints - reproduced with permission.