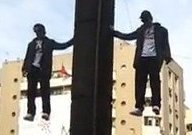 Doppelganger Danger
Posted on Friday, 24 August, 2012 |
7 comments
Columnist:

Taylor Reints
Have you ever wished to have had a twin? If so, wish granted. Some people believe in paranormal doubles called doppelgängers, German for "double walker". These doubles possess a bad seed; however. And this seed can easily grow into a bad apple that spoils the bunch, a.k.a. you. Doppelgängers represent misfortune and evil, so when you see yours, run. There are multiple cases of doppelgängers, most bizarre, recorded throughout history, and some of them may just shock you.
One, for example, involves Mary Shelly and her husband, Percy Bysshe Shelley. Mary was writing a letter on August 15, 1822 to Maria Gisborne about one of Percy's nightmare. The night terror happened in the early morning hours of June 23, 1822, in which he dreamed about the house collapsing in a flood and:
[...] talking it over the next morning he told me that he had had many visions lately--he had seen the figure of himself which met him as he walked on the terrace and said to him--"How long do you mean to be content"--No very terrific words & certainly not prophetic of what has occurred. But Shelley had often seen these figures when ill; but the strangest thing is that Mrs Williams saw him. Now Jane, though a woman of sensibility, has not much imagination & is not in the slightest degree nervous--neither in dreams or otherwise. She was standing one day, the day before I was taken ill, [June 15] at a window that looked on the Terrace with Trelawny--it was day--she saw as she thought Shelley pass by the window, as he often was then, without a coat or jacket--he passed again--now as he passed both times the same way--and as from the side towards which he went each time there was no way to get back except past the window again (except over a wall twenty feet from the ground) she was struck at seeing him pass twice thus & looked out & seeing him no more she cried--"Good God can Shelley have leapt from the wall?.... Where can he be gone?" Shelley, said Trelawny--"No Shelley has past--What do you mean?" Trelawny says that she trembled exceedingly when she heard this & it proved indeed that Shelley had never been on the terrace & was far off at the time she saw him.
Yet another doppelgänger case involves writer and artist Johann Wolfgang von Goethe. In Book XI of his autobiography, he wrote:
Amid all this pressure and confusion I could not forego seeing Frederica once more. Those were painful days, the memory of which has not remained with me. When I reached her my hand from my horse, the tears stood in her eyes; and I felt very uneasy. I now rode along the foot-path toward Drusenheim, and here one of the most singular forebodings took possession of me. I saw, not with the eyes of the body, but with those of the mind, my own figure coming toward me, on horseback, and on the same road, attired in a dress which I had never worn,--it was pike-gray, with somewhat of gold. As soon as I shook myself out of this dream, the figure had entirely disappeared. It is strange, however, that, eight years afterward, I found myself on the very road, to pay one more visit to Frederica, in the dress of which I had dreamed, and which I wore, not from choice, but by accident. However, it may be with matters of this kind generally, this strange illusion in some measure calmed me at the moment of parting. The pain of quitting for ever noble Alsace, with all I had gained in it, was softened; and, having at last escaped the excitement of a farewell, I, on a peaceful and quiet journey, pretty well regained my self-possession.
British admiral Sir George Tryon saw a strange apparition also, one that resembled himself. At a dinner party in 1893, hosted by his wife, his look-alike appeared in front of the guests. Strangely, he died at about the same time in a naval accident at sea.
Another interesting doppelgänger case was one of a teacher named Emilie Sagée. Sagée had a double that would appear and fade, but it was visible only to her students. Not even she could see it. One day, she was writing on the blackboard and her doppelgänger appeared beside her, imitating her every movement, except the double had no chalk in its hand. Similarly, while eating supper one evening, Sagée's doppelgänger appeared behind her and mimicked her actions, yet it possessed no silverware. Yet even more astonishing, students were in a sewing and embroidery class one day and could see Sagée in the garden picking flowers. Another teacher was supervising the class. When the teacher left the room, Sagée's doppelgänger appeared in her chair. A brave student went up to the apparition and tried to touch it, but she went right through it.
To add, the French novelist Guy de Maupassant was haunted by his doppelgänger near the end of his life. He once claimed that his twin entered the room he was in and dictated what he was writing down. The English poet John Donne saw his wife's doppelgänger holding a baby while he was in Paris. His wife was pregnant at the time and at the same moment he saw the ghostly figure, his wife gave birth to a stillborn child. Even Queen Elizabeth I saw her doppelgänger--lying on her bed--shortly before her death.
Even President Abraham Lincoln saw his doppelgänger:
A dream or illusion had haunted Lincoln at times through the winter. On the evening of his election he had thrown himself on one of the haircloth sofas at home, just after the first telegrams of November 7 had told him he was elected President, and looking into a bureau mirror across the room he saw himself full length, but with two faces. It bothered him; he got up; the illusion vanished; but when he lay down again there in the glass again were two faces, one paler than the other. He got up again, mixed in the election excitement, forgot about it; but it came back, and haunted him. He told his wife about it; she worried too. A few days later he tried it once more and the illusion of the two faces again registered to his eyes. But that was the last; the ghost since then wouldn't come back, he told his wife, who said it was a sign he would be elected to a second term, and the death pallor of one face meant he wouldn't live through his second term.
One must wonder, are doppelgängers apparitions or are they omens? Seeing a doppelgänger before something unfortunate happens is common, as the stories that were told to you say. So if you do see your double, prepare for the worst case scenario.
REFERENCES
Bennett, B.T. (1980). The Letters of Mary Wollstonecraft Shelley. Baltimore: Johns Hopkins University Press. Volume 1, page 245.
von Goeth, J.W. (1969). The Autobiography of Wolfgang von Goethe. Translated by John Oxenford. New York: Horizon Press.
Seth, J. (2010, August 24). "9 Humanoid Figures of the Paranormal", "5. Doppelgangers". Asia Paranormal. Retrieved August 17, 2012, from
http://www.asiaparanormalblog.com/2010/08/9-humanoid-figures-of-paranormal.html
Wagner, S. "True Stories of Doppelgangers". About.com Paranormal Phenomena. Retrieved August 17, 2012, from
http://paranormal.about.com/od/Doppelgangers/a/doppelgangers.htm
Sandburg, C. (1926). Abraham Lincoln: The Prairie Years. New York: Harcourt, Brace and Co. Volume 2, Chapter 165, pp. 423-4.
Article Copyright© Taylor Reints - reproduced with permission.