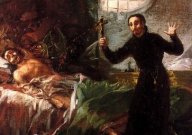 The exorcism of Anneliese Michel
Posted on Friday, 21 September, 2012 |
6 comments
Columnist:

Taylor Reints
Anneliese Michel is the woman whom inspired the plots of The Exorcism of Emily Rose, Requiem and Anneliese: The Exorcist Tapes, and they are all based on a true story (somewhat). Anneliese was a Catholic supposedly possessed by demons. She consequently underwent an exorcism, a practice casting out demons from a person whom is believed to be possessed. But was she really possessed? Today, many think that Anneliese Michel was not possessed by demons, rather she "possessed" mental disorders. Furthermore, the exorcism was bathed in negligence, abuse and religious extremism.
Anneliese was born on September 21, 1952—sixty years ago today—in Leiblfing, Bavaria, Germany to a strict Catholic family. Sixteen years later, she had a seizure and was diagnosed with epilepsy, a neurological disorder characterized by convulsions. Soon after, she began hallucinating while praying. In June of 1970, she had experienced her third seizure and was prescribed anticonvulsants. This medication did not immediately relieve her symptoms. Michel came to the conclusion that her condition was not of a medical one, but of a spiritual one. She became adamant that she was possessed by demons and appealed to the Catholic Church to perform an exorcism on her. By the year 1973, Michel was suffering from auditory hallucinations telling her she was "damned" and would "rot in hell".
Michel went to a psychiatric hospital, where treatment did not improve her health. She began to fall into a deeper depression. During this time, Michel had been prescribed an antipsychotic, which she may not have taken.
Anneliese Michel went to San Giorgio Piacentino, Italy with her friend, Thea Hein. While there, Michel refused to drink the water of a holy spring or walk past a crucifix. Hein concluded that Anneliese was indeed possessed by demons. Hein, Anneliese and her family appealed to numerous priests, asking for an exorcism. The priests told them to continue medical treatment and that exorcisms require the bishop's permission. They finally came upon Rev. Ernst Alt whom declared that Anneliese didn't "look like an epileptic" and never saw her have a seizure. Alt thought she was possessed. He urged the bishop to permit an exorcism and, in September of 1975, Bishop of Wuerzburg Josef Stangl allowed Rev. Arnold Renz to perform an exorcism on Anneliese Michel. Shadily, Stangl ordered total secrecy of the exorcism. The first exorcism session started on September 24, 1975. As soon as the exorcism sessions had begun, Anneliese ceased medical treatment altogether.
She received one or two sessions per week for ten months in the years 1975 and 1976. In total, sixty-seven sessions had been performed. Michel started refusing to eat or drink. Finally, on July 1, 1976, Anneliese Michel died. An autopsy revealed that she had passed away because of dehydration and malnutrition. When dead, she weighed only sixty-eight pounds.
But this is only the beginning of the story.
After an investigation, the state prosecutor said that Michel's death could have been prevented a week before she had died. In 1976, Anneliese's parents, Ernst Alt and Arnold Renz were charged with neglectful homicide. The priests were found guilty of manslaughter and were sentenced to six months in jail (later suspended) and three years on probation.
REFERENCES
Duffey, J.M. (2011). Lessons Learned: The Anneliese Michel Exorcism. Eugene, Oregon: Wipf and Stock Publishers.
Paris, André (2003, May 31). "Unreiner Geist, weiche!" (in German). taz. Retrieved August 25, 2012, from
http://www.taz.de/1/archiv/archiv/?dig=2003/05/31/a0360
Hansen, Eric T. (2005, September 4). "What in God's Name?!". The Washington Post. Retrieved August 25, 2012, from
http://www.washingtonpost.com/wp-dyn/content/article/2005/09/02/AR2005090200559.html.
(1978, April 4). "Priests convinced woman was possessed". The Windsor Star, p. 17. Retrieved August 30, 2012, from
http://news.google.com/newspapers?id=s1s_AAAAIBAJ&sjid=yVIMAAAAIBAJ&pg=1378,1341502&hl=en
Getler, M. (1978, April 21). "Cries of a Woman Possessed; German Court Hears Tapes in Exorcism Death Trial". The Washington Post.
Article Copyright© Taylor Reints - reproduced with permission.