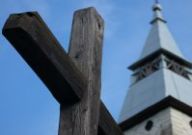 The Quebec Encounter - part 7
Posted on Tuesday, 23 October, 2012 |
0 comments
Columnist:

Rob MacGregor
In part 7 of the Quebec encounter, an eerie, melancholy pervades. An invisible presence stalks Charles. He feels that his house has been infested with something evil, that it must be cleansed. He's literally living in The Castle of Otranto. Has something attached onto him from his trip to the cemetery (part 1), is it something leftover from the encounter with the cones of light…or could it possibly be a combination of the two?
+++
When I arrive home, I call the number the pharmacist gave me. No one answers and I don't leave a message. I start feeling frightened all over again. How could the pharmacist have found out? What did he see, what does he know? And who is this man he wants me to talk to?
But it's not just that matter. I sense a presence beside me. I cannot explain it, but it is there following me. I'm more receptive now. I hear weird sounds and see dark shadows. I am haunted in my own home.
I am very scared. My mind and my reason cannot deny it. Something is nearby, with me.
I sleep in the basement. I feel more secure because I keep some lights turned on. I cannot sleep upstairs. Helene sleeps with all the light turned off.
The next day, April 7, I go to work as usual. I still have that huge pressure in my head. I lack energy. All that is happening to us is draining me. All I am doing is thinking and thinking. I must be dreaming. This cannot be possible. What have I done? Did I allow something bad to come into my life? Again, I am thinking seriously about suicide. What disturbs me though is that I keep wondering what or who would be waiting for me on the other side.
At 9:50 a.m. I decide to call the man named Jules, the one the pharmacist recommended. I close the door of my office and punch the number. This time he answers. I greet him and say: "André gave me your phone number and said that you will help me."
I feel emotional and don't where to begin with my story. But before I say anything, he tells me to take a deep breath. "I know what you saw—UFOs. You have to be aware that you are not the first and you won't be the last. It happens every day. I won't let you down, but you are in shock."
I told him briefly what happened, and told him about the medium, Henri. He said, "Are you a believer? Have you got faith?
"Now I do. No doubt."
"Faith is your only weapon. You know what you must do. Clean up the house and tell them that they are not welcome. They have to leave."
"What about the medium?"
"Mediums are very sensitive people. He is really in communication with those beings of light, and he is probably not a dangerous person. But considering your condition, you should stop talking to him."
With that, Jules said he had to end the call. "I am a microbiologist working in Montreal. That is all the time I have for you this morning, but I will give you a call this evening."
Five minutes later, I call the priest in my hometown. I did not identify myself. I ask him if I could stop by later for some holy water.
He laughs a bit, then says: "If you want holy water, all that you have to do is to come to mass next Sunday." Then he hung up.
I am mad at him.
After work, I go home and tell Helene about Jules and about what he suggested we do, and also what he said about Henri.
The phone rings. My wife answers. I hear her say: "Well, why don't you ask him? Here he is."
She hands me the phone and whispers: "Erica, the neighbor."
Erica sounds very nervous. "Henri just called me a few minutes ago. He wants to know if tomorrow is still good for you for his visit."
"Erica, tell him to stay away, that I do not want to see him. Tell him that I think he opened up the wrong door. He thinks that he is connected with the good ones, but they are lying to him. So they must be the bad ones."
She asks why I don't call him myself and I tell her that I want no further contact.
"I know what you mean," she replies. "It is kind of strange. I don't like getting his phone calls and having to call you. But he also wanted me to tell you that he has something very important to tell you concerning your family." After a moment, she adds: "I just hope that you are not mad at us. You are good neighbors. What have you seen exactly?"
"I saw something that I wish did not exist."
Later in the evening, Jules calls me. I am very exhausted. I tell him about my phone call with the priest and the holy water.
He says: "You do not need holy water to clean up the house. Your faith is good enough to kick them out. You are strong enough. Go to every corner of your land and mark your property. Place a shield in your mind on all your property."
I ask him how much André the pharmacist had told him before I called. He replies that André did not tell him anything. "He is my brother-in-law and very open minded because of personal experience. He is aware of their existence."
We talked for half an hour and afterwards I felt better knowing that a pharmacist and a microbiologist don't think I am crazy.
However, by Sunday, I am feeling that my faith is not strong enough to get rid of this presence in the house that I feel wherever I go. I am so afraid of mirrors now. I feel like another dimension is in there. I feel like something is going to come out.
I decide to go to church, but not in my hometown. I drive to a nearby city. I've brought along an empty plastic bottle, which I've hidden in my jacket. After mass, I ask an old woman who helped with the ceremony if I could have some holy water. She was very kind and when I took my bottle out of my jacket, she said, "You may take as much as you want. This is free and you may come anytime you want more."
Back at home, Helene is lying on the couch with a cold water towel on her forehead. She complains of a headache and the constant pressure that I also feel. I immediately go to the basement and pour a bit of holy water in my hand, touch my forehead with it, and drink a bit.
Spot is nearby so I pour more in my hand and let the dog lick it. I pour more in my hand and touched his head. Then I bless every room by throwing drops of the holy water and saying: "Get out of here. Leave us alone. You are not welcome here. We want to live in peace…in peace with Jesus Christ, our only lord."
I go upstairs and did the same thing in every room. Then I pour holy water in Helene's hand and tell her to rub her forehead. She drinks a bit as well.
I go outside to every corner of our land and even to the sheds, kicking the bad ones out of our property, blessing and making a protective shield against them.
Later that same day, my wife and I start feeling better. The headaches and pressure on our heads ease off.
Article Copyright© Rob MacGregor - reproduced with permission.

Share:
---
- Rob & Trish MacGregor

http://www.synchrosecrets.com/synchrosecrets