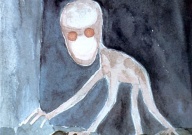 An Introduction to 'Cryptobiology'
Posted on Tuesday, 2 July, 2013 |
1 comment
Columnist:

Taylor Reints
Cryptozoology and cryptobotany are words derived from the Greek root kryptos, which means "hidden". Zoology and botany being the study of animals and plants, cryptozoology and cryptobotany are the "studies" of "hidden" animals and plants, creatures that remain hidden to science. Fundamentally, they are the studies of animals and plants not even known to exist; creatures such as Bigfoot, the Loch Ness Monster, el Chupacabra and the Kraken. These hidden animals are referred to as cryptids.
For the sake of simplifying terms, cryptozoology and cryptobotany are going to be lumped together and hereafter be called "cryptobiology", which has the Greek prefix meaning "hidden" and the word biology, which is the study of living things.
Cryptobiology does not rely on much physical evidence to make claims and therefore has been denounced as nothing more than a field of pseudoscience. And in many ways, this classification within fringe "false science" is accurate.
Naturalist Ivan T. Sanderson was the first one to coin the term "cryptozoology" but it wasn't popularized until 1955, when the Belgian-French zoologist Bernard Heuvelmans published Sur la Piste des Bêtes Ignorées (better known by the English version of the book, On the Track of Unknown Animals). Sanderson coined cryptozoology because of accounts of creatures unknown to science.
One year after On The Track of Unknown Animals was published, science writer Willy Ley published Exotic Zoology, a compilation of cryptozoological chapters and essays. The book proposes that legendary animals, such as cyclops and unicorns, could actually be real or based upon actual animals.
On the Track of Unknown Animals deals with terrestrial cryptids alone. To fill a much-needed gap, in 1968, Heuvelmans wrote In the Wake of the Sea-Serpents, a book suggesting the possibility of living "sea monsters", specifically focusing on the giant squid and creatures like the Loch Ness Monster.
Besides the "study of hidden animals", there is a study of hidden plants. Cryptobotany means "hidden plants" and it is the study of plants unknown to science. There are many mysterious plants, one of them being the man-eating tree, also known as the Ya-te-veo, of Central America. Allegedly, it occasionally consumes humans with its tentacle-like branches. The Umdhlebi is a plant that supposedly poisons animals that dare to come near it. The animals literally drop dead and fertilize the soil. One of the oddest plants in lore is the Vegetable Lamb of Tartary, a plant with a sheep as its fruit. This is now considered a myth but was popular in medieval times, as it explained the origins of cotton. Some experts believe that it was based off of a real plant, the woolly fern (Cibotium barometz), which has a hairy root system. Believe it or not, there are also tales of psychic or telepathic plants.
In 1983, John Wall coined the term "cryptid" for the creatures of cryptobiology. "Cryptobiologists" of today include Karl Shuker, Ken Gerhard, Loren Coleman, Jeff Meldrum and Craig Woolheater.
Heuvelmans' audience wasn't scientists: cryptobiology is mocked as pseudoscience and is usually not taken seriously by mainstream scientists. From Wikipedia's "Cryptozoology" article: "Cryptozoology is not a recognized branch of zoology or a discipline of science. It is an example of pseudoscience because it relies heavily upon anecdotal evidence, stories and alleged sightings." Alas, it is true that cryptobiology is a pseudoscience, and it is because there are too many unscientific fields associated with it. For example, some cryptobiologists believe in fairies, giants, trolls, mermaids, ghosts and demons. The only possible way cryptobiology could be taken seriously is if there were more biologists actually looking for cryptids, more research being done on them (not faulty research like Melba Ketchum's 2013 "paper") and more actual science.
Article Copyright© Taylor Reints - reproduced with permission.