I was taken in last Thursday to be induced and I was nervous.... I delayed time and winded up not going in until 7pm that evening ( that's nerves for ya )
Time went by and into labour I went.. But I was in one of the funny moods..I think it was the gas and air.. I took it for the 1st time in over 6 years and said - HELLO MY FRIEND...WE MEET AGAIN !! I was taken into the delivery suite and for some mad reason, I felt it was OK to tell jokes ..Gary thinks it was the gas and air that put me that way .....I told a joke.. stopped to have a contraction.. and then continued with the jokes.. The midwives were laughing ..it was a bit fun in there that night lol
Then they left to go home, their shift was up....I continued taking the odd gas and air.. and watched some TV..In came the other midwife to take over.. Her name was Geri too....At this stage the baby was on it's way.... Out he came..A healthy baby boy, weighing in at 7lbs4 ..
I couldn't believe he had dark hair and lovely tan skin...He let out a little cry and I sat up amazed.. I still clutched on to the gas and air...The midwife Geri said - You can let go of that now... I said - Nope cuz I still have to rid the placenta and whatever else is left in there ..I said it with a smirk on my face because I didn't want to give up the gas and air.. lol ...
I was too weak to hold him straight away, so Gary took him.. In fact it was Gary who helped deliver him into the world... He helped me, he assisted the midwife he then got to cut the cord...I have been calling him - little midwifey ever since ha ha ..!!
The only problems that followed was me being left with was two horrible infections...One in my kidneys and the other in the bladder ..They gave me anti biotics for them, and I was also suffering from a lot of blood loss.
.It took a while to stop the internal bleeding... I was shaky and passing out for a few days ever since .. This is weird for me, I have never in my life passed out every so often and not remember ...very weird indeed
Main thing is - Little baby Aaron was doing fine.... And he is a greedy little mite... He loves his bottle.. and well dare you delay giving his bottle..
Little Aarons faces ( taken in stages ) --->
"Where's my bottle? "..THEN ..
" No seriously, where is my bottle? .....
"Why are you changing me?, I want to sleep now that I have been fed... That's it you asked for it 30 seconds of - >
WAAAAAHHH ...30 seconds later - >
Now leave me alone ma..It's sleep time.... I'll let you know when I have filled the nappy....( diaper )
Thing is.. he clams down so fast the sec I lift him up...he's be all
Waaahhh waaahhhh.
.. I lift him up and he calms down in an instant.. I speak to him and he cooo's at me..as if to say - goodie I feel safe now... He does this all the time.. He also LOVES his sleep...Aaron would sleep the entire night though ......In fact on the maternity ward, when the other baby's were crying all night.. I looked over at him and he never flinched... he lay there sleeping through all the noise... It was as if to say- None of you all can waken me...
When Becky got the phone call to say her little brother was here...she squealed down the phone with excitement and yelled out - I AM NOW A BIG SISTER ...WHOOHOOO ... She couldn't wait to get up next day to see him .............She has been helping me ever since...
I can now look forward to running after my kids more. and getting better... I need to get fit and well again..at the moment I cannot move around much because of these infections...It is annoying because I was looking forward to being hands on with chores and my kids...So fingers crossed i get better soon and then it's all go go go .. Gary is helping in the meantime..I am grateful for that ..
Here are a few pictures of Aaron with Becky and his dad below...
This is Becky, meeting her new baby brother for the first time...She was nervous ...but glad to be there ..
This next one is of Becky feeding Aaron at he hospital.. She couldn't wait to get feeding him his bottle ...
Aaron Jensen...
Becky, her dad and little Aaron.....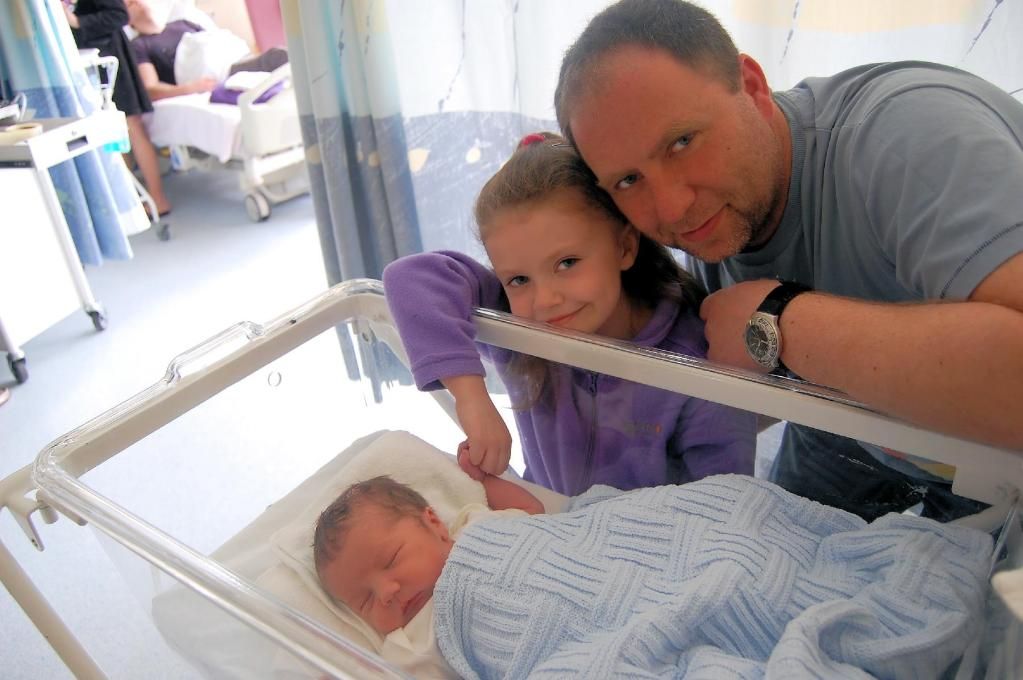 Aaron at home with his daddy...
Thanks for reading ...
Geri ...