A friend of mine just sent me an email with the most hilarious dog pictures in it. These are the ones that had me rolling in my office. I thought I'd share since I've been such a mood killer lately. Hey, here's a secret. The accounts lady keeps packs of gum in her office. They aren't the good kinds, they're Double Mint. So on Thursday when she's not here, I go and I systematically chew an entire pack. Only takes me about 40 minutes or so because the flavor doesn't last very long.
Anyway:
Hahahahhaaa!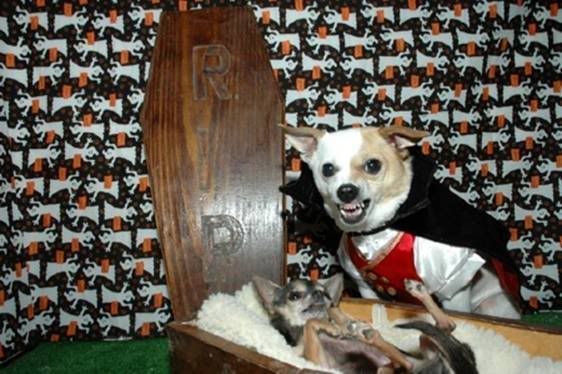 WAHAHHAAAA! Look at his little victim in there!!!
ROTFLMAO! Dog bottoms!!!
Fins called me at work today on my lunch hour and had me in stitches! I freaked him out by mentioning his chest hair. LMAO! Like we can't see that stuff in the pictures! Chuck Norris ain't got nothing on you, Fins!! Shatner would be swooning in his 60's go-go uniform boots!
My boss went out to lunch with a rep and brought me back taco salad. It was good but now I'm so full I want a nap. All the coneheads around me were so effing jealous that my boss brought me lunch they couldn't help but make snide comments.
Oh, I finally have an appointment with a new pdoc. It's near the end of October, but at least I've finally done it. It's a chick this time. See how that goes.