The birthday party went very well. The weather was perfect. It stayed about 72 degrees F the whole day. Almost the entire side of my family dressed as pirates.
We had almost 30 kids and everything went smoothly and no one hurt themselves.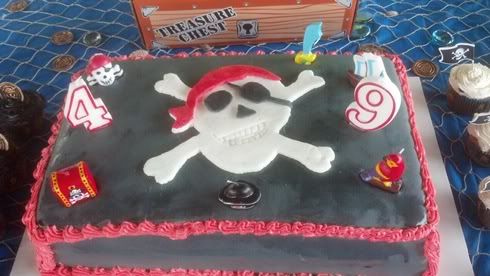 It was a double bday party for my 4 year old nephew and his cousin on my sis in law's side that's why there are 2 candles in the cake.
Can't believe how much of a good time I had. I'm wore out though because it's over an hour drive away and we went early to help set up and I've just been vegging since I came home. More pics later maybe when I get them from mom.
Oh, I was in charge of giving the kids their pirate hats on the treasure hunt. I had a stapler to add a staple to the paper hat for the smaller headed kids and I took great joy in saying I was going to staple pirate hats to the kid's heads. Heh heh heh.
Pics are birthday boy and his dad, my brother; other pic is my daughter, my son and my bro in law.