Just out of interest after reading about the worlds fastest spinning man-made object,
http://www.unexplain...howtopic=253672
.... I went and dug this up...The slowest rotating man-made object!!
The assembly is driven by a motor turning at 1,550 rpm.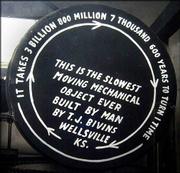 The final wheel in T.J. Bivins' machine shown in Wellsville, states its speed when plugged in: 3.8 billion years to make a single rotation. Bivins believes the machine is the slowest ever designed.
http://www2.ljworld....nventor_creeps/
Its not exactly an edge of your seat thrill ride but if you will; just focus on the photo above, it also doubles as the official video of the object in full swing!
lol
Edited by taniwha, 31 August 2013 - 11:04 PM.