I always pictured a little green alien holding up a sign saying,"we were never here" when people say there is no evidence of ancient aliens.
If that is that case, is there any evidence that they werent here?
Forget aerial phenom and ufos for a minute. while ufo phenomena are based on sighting, theres something a bit more credible when it comes to tangible artifacts ( i cant say evidence for sure) however, I think people myself included have NO idea just how many explainable artifacts exist and are continuing to be found ,Be it statues, carvings, petroglyphs, or writing ( let alone structures which ill leave for another thread) that depict things that dont make sense to us anyway. Or atleast are speculative in nature. Actually they appear to be atronaunts or at the very least indicative.
Some of my favorites,
Before there was cars, planes, rockets, space gear, submarine gear, before Star Wars, there were these;
Pacal's Sarcophagus-found in southern mexico: the first is a close up drawing incase you cant see the carvings details. anyway it appears to be a man operating something. date is thought (emphasis on thought) of around 400a.d. because it is Mayan.
also Mayan,found in Guatemala, speculative of that of an astronaut:
Egyptian wall carving or hieros. unknown but appears to be depicting a submarian, helicopter and what we imagine to be a ufo:
From France, cave drawing. 15,000-17,000 B.C.. the cave drawing depctis aimal and then an out of context saucer shaped object over a mountain. found in pech merle, France.
From toro muerto Peru, 12-14,000 years old:
.:
cave near Camonica, Italy 10,000 b.c. who looked like his 10,000 years ago? why would someone create these?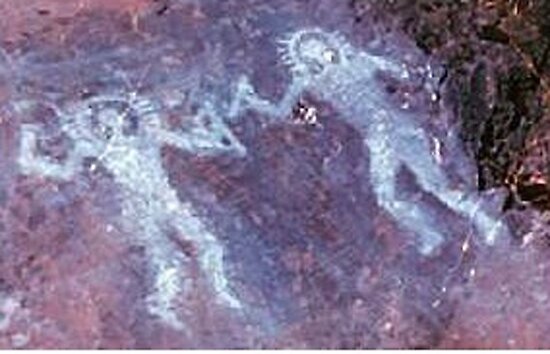 this strange looking figure was found in Kiev
Edited by Sheep Smart, 05 May 2013 - 12:39 AM.