Macroramphosis, on 23 September 2012 - 02:45 PM, said:
Sorry, been away for a few days.
I see people are doubting the lake exists. Here's a screenshot from Google Earth showing the lake, its name and the co-ordinates where you can find it. I should have posted this the other night, my apologies. I used Google Earth's own measuring tool to see how far it was from the nearest surfaced road. I have struggled to find a decent populated town within 100 miles or so, so would love to hear from anyone who can. I still do not think it is a "reservoir".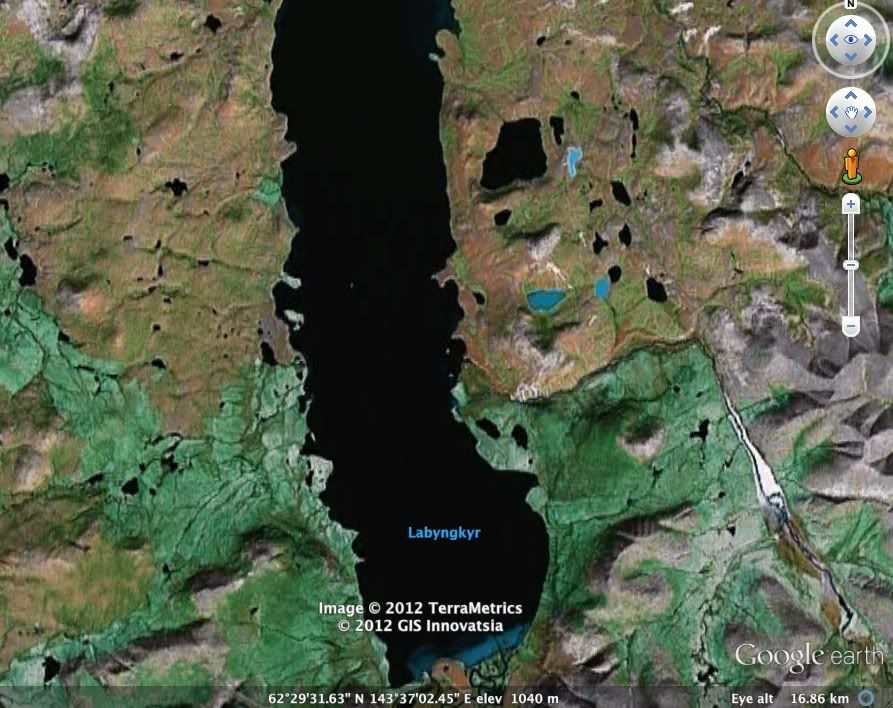 And here are some pictures taken by (I assume) Russians, showing the lake and its environs. You can see the pictures on Google Earth itself when you zoom in with the correct settings checked.
If Google Earth can no longer be trusted, much as Wikipedia is reputed to be, then further apologies in advance - I had no idea it was full of false information. But the Russian titles in the Panaramio photos do say "Lake Labyngkyr", so that's a good start, anyway.
My apologies if I've ruffled your feathers, Sakari. I should have made better use of smilies, I guess. By the way, I wasn't referring to the "monster" pictures in your pdf, more the shot of the lake that is similiar to the one above. As I said, quite how you didn't reconcile the difference between that picture and the one of the large pond you posted is beyond me - unless you did it deliberately to misled people ?
And again, I am also not supporting the "monster" theory, just defending a poor old lake whose existence is being abused.
I must admit though, I don't see many t-shirts being sold in any of those photos........
Thanks for the info - I'd not thought of using google earth.