Crumar, on 01 November 2012 - 04:05 AM, said:
I am honestly drained at this point I was going to respond to another post made by Skyeagle when I got a notification that Frenant and Czero posted again. I have 5 people if not more who are trying to ask me questions and my opinion and I realize I will be here all night responding and we will just be going in circles. I have said from the start I am not an expert, I was not there when the Pentagon attack happened and I can only base my opinion off of what other people who were there and expert testimony as to what might have actually happened on that date. The same applies for Skyeagle and other posters here because they were not there and they have to use the information provided by other sources to base their opinion on what took place. Even posters here who have aviation engineering degree, pilots, were not at the crash site, were not investigators with the NTSB or FAA and are just making educated guesses as to what may have happened.
Just like Skyeagle I used other sources to provide information and opinion based on eyewitness testimony, expert accounts, and any information that was asked of me was looked on for outside sources to base my opinion as an observant bystander from afar. People here claim because they are experts and viewed certain aspects of the crash the same way I have (via video and pictures) that their opinion is fact. The fact is it is just your opinion the NTSB neglected to include in their report eyewitness testimony of those who were there which I already stated their names as to what happened from their perspective which raises a red flag for me anyway. Why is their testimony discounted? I provided names of these people and their testimony via video you can see it and yet they are discredit even though 3 federal police officers, 2 aviation experts, refute what the NTSB claims occurred. I have said time and again that something hit the Pentagon, and a grainy video along with aftermath photos that do not identify any part of a 757 is claimed to be flight 77 being the culprit to hit the Pentagon. Skyeagle provides me pictures like this (a drawing and not real world picture keep that in mind).

Why is the stamp date on the picture above say September 7, 2001 is this a misprint? Also again notice another drawing caused the following damage below: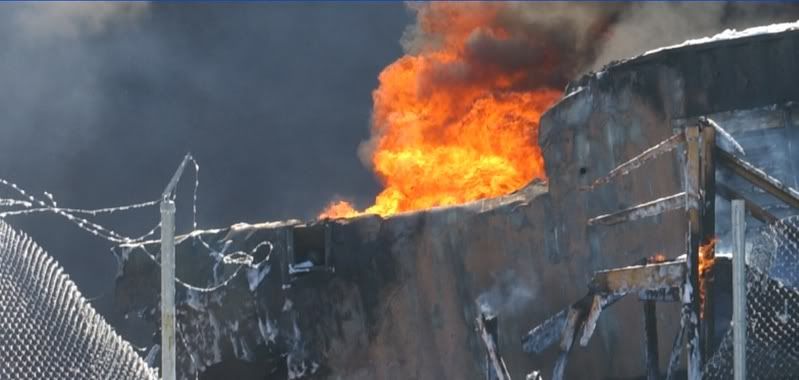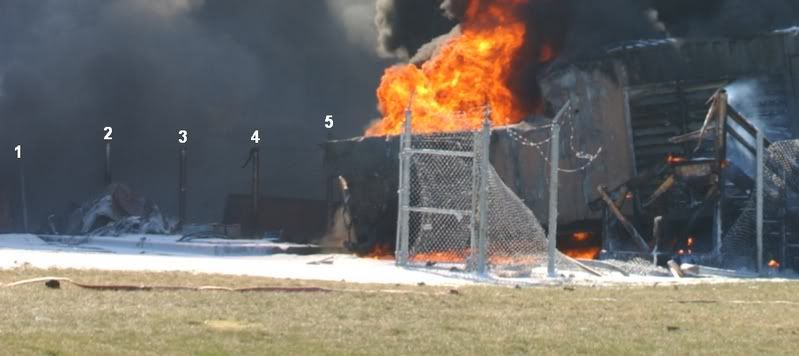 And the final two pictures one a drawing again.
Which if you take a look where the red and yellow mark met and where the actual lower part of the tail section the red mark points to where the drawing does not even line up is supposed to be this damage: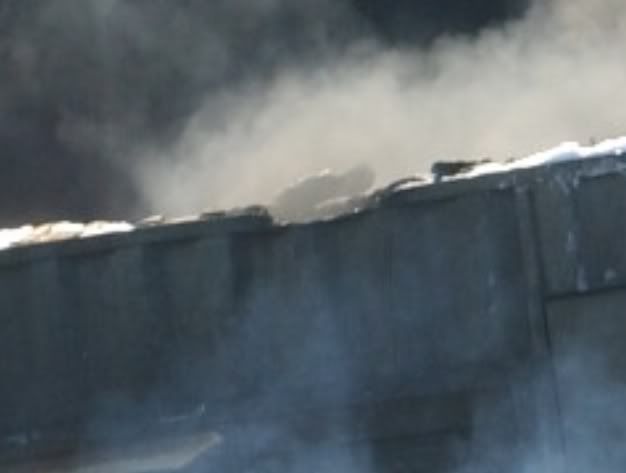 Never knew drawings could cause damage.
I understand it is for illustration purposes since we do not have video or picture evidence to prove this is what actually happened but at the same time the drawings are making an assumption and helps investigators determine what could have actually caused that damage. But the drawings themselves do not even support or line up to the physical evidence there.
When used in conjunction with visual and direct physical evidence, such as the light poles and generator damage, they do.
Quote
Case in point the first drawing has the entire engine over the transformer yet the transformer itself is damaged to the side and a little bit on top at the same time?
Remember, you not only have the engine impact, but have the flap jackscrew on the trailing edge of the wing as well,
Quote
So maybe the wing could have caused the upper part of the transformer damage...
The flap jackscrew was in a position to cause the gouge on top of the generator. The position of the jackscrew turn it into a spear.
Quote
Still we cannot confirm without a shadow of a doubt that this is indeed what happened but people are basing this as fact.
Let's do a recap.
* American Airlines, operator of American 77, reported the loss of American 77 at the Pentagon
* The airframe of American 77 has now been deregistered and written off because it was destroyed.
* The airframe of American 77 was a B-757-200 series aircraft and each B-757-200 is accountable. A simple process of elimination is all that is needed to determine which B-757-200 series aircraft had crashed at the Pentagon.
* Each engine that powered American 77 is trackable and can be accounted for because each engine has its own maintenance and installation histories that are as unique as a fingerprint and once again, the process of elimination can be used in the case of engine installation, flight, and maintenance histories including the use of documentation on time-sensitive line replacement items in order to make a determination as to which aircraft crashed at the Pentagon.
* Each part of an aircraft has its own part or stock number stamped, which means that I could have created a thick file of stock and part numbers obtained from the wreckage seen in the Pentagon photos and then, use that information to determine the identity of the aircraft, which is why no one in the United States government in their right mind would have modified any B-757 or B-767 for the purpose of flying them into buildings because it wouldn't have taken very long to determine who was responsible.
9/11 conspiracist do not think of little things like those, but as I have said before, I could reveal a switched aircraft in less than 30 minutes because I know from many years of experience, what to look for.
Quote
Added to the eyewitness testimony I provided along with the FBI not releasing evidence is clear indication something may (not saying is but may) be a miss.
In accidents, there are usually conflicting witness accounts which is why the FAA and NTSB rely on data to verify who is right and who is wrong. A case in point, an airplane crashed on landing and some people said the aircraft was on fire before it crashed and others said the aircraft burst into flames after landing and you can find many such cases, and another reason why I have said that despite what witnesses have said, you have to go with FDR and radar data and direct physical evidence inside and outside the Pentagon.
Edited by skyeagle409, 01 November 2012 - 05:29 AM.