Quote
-

Modern Human Skeleton from Tanzania, over 800,000 years old
In 1913 Professor Hans Reck, of Berlin University, conducted investigations at Olduvai Gorge in Tanzania, then German East Africa.
During his stay at Olduvai Gorge, Reck found a modern human skeleton that remains a source of mystery and controversy to this day.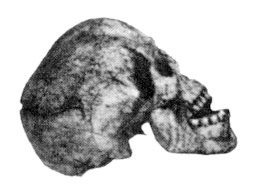 This modern skull is from a fully human skeleton found that year. The human skeletal remains, including this complete skull, were cemented in the rock and had to be chipped with hammers and chisels. It was found in the upper end of a rock bed dated at more than 1,000,000 years old.
How did this modern human find his way 1,000,000 years into the past?
He didn't. Although we can now see that his remains have been used to perpetuate a fabrication, to whit:
Quote
Oldoway Man: a complete skeleton found by Hans Reck at Olduvai Gorge in 1913. In 1932 it was shown to be a modern Homo sapiens, buried 20,000 years ago in older deposits that had been exposed by faulting (Johanson and Shreeve 1989). Taylor (1992) writes "Some have suggested this skeleton is an intrusive burial", when in fact this explanation has been unanimously accepted (even by Reck and the notoriously stubborn Louis Leakey). Bowden (1981) disputes this, as Reck had originally claimed the skeleton could not be an intrusive burial because of the undisturbed layers above it. It was later shown, however, that the layer above the skeleton had been misidentified by Reck, and instead of being very old, had been laid down recently, after the skeleton had been buried (Morell 1995). The completeness of the skeleton and its contracted position were also consistent with a burial rather than a natural fossilization.
http://www.talkorigi...tml#castenedolo
Quote
-

Modern Human Skull found in Italy, over 3 - 4 million years old
Late in the summer of 1860, Professor Giuseppe Ragazzoni, a geologist and teacher at the Technical Institute of Brescia, traveled to the nearby locale of Castenedolo, about 10 kilometers southeast of Brescia, to gather fossil shells in the Pliocene strata exposed in a pit at the base of a low hill, the Colle de Vento.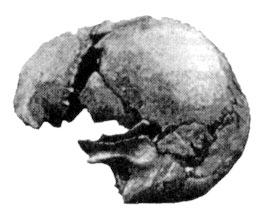 Here he discovered this remarkable and anatomically modern human skull. The stratum from which it was taken is assigned to the Astian stage of the Pliocene.
According to modern authorities, the Astian belongs to the Middle Pliocene, which would give the skull an age of 3 - 4 million years.
This is another fabrication being perpetuated as true as well:
Quote
Castenedolo Man: Morris and Parker (1982) say "Fossils of ordinary people in Mid-Tertiary rock [i.e. tens of millions of years old; the actual date is about 1.5 million years] were found in Castenedolo, Italy back in the late 1800's ...". According to Boule, an official report on these skeletons in 1899 noted that all the fossils from the deposit were impregnated with salt, except the human ones.
This implies that they are from relatively recent burials. Collagen tests in 1965 and radiocarbon dating in 1969 confirmed this.
(Conrad 1982)
Cremo and Thompson, in their book Forbidden Archeology, claim that the original documents in fact do
not
support the claim of intrusive burial (see
here
). Not being able to obtain the original literature I can neither confirm nor deny this, though I do not have a lot of faith in the scholarship of Cremo and Thompson (see a review of their book
here
). Whatever the details, I find the modern tests conducted on the bones more convincing than ancient reports at second-hand.
As to the Willendorf Venus, it doesn't require a civilization to create art. Many cultures that never reached the level to be considered a civilization have created works of art.
cormac