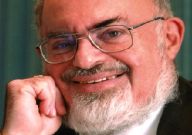 Image credit: Stanton Friedman MSc
In his latest article UFOlogist Stanton Friedman talks about those who attack the notion that UFOs are of alien origin. Friedman maintains that people need to take a close look at the available evidence and investigate in full before criticising this view.
"

There have been a number of remarks by people calling themselves scientists attacking the notion that any flying saucers are of alien origin. The arguments arenít scientific, but rather represent research by proclamation rather than investigation. We can learn a lot about how to deal with these attacks by focusing on the claims that are made and what is irrational or illogical or just plain wrong about them.

"
View:
Full Article
|
Source:
UFO Chronicles