On Friday night Gary and I took Becky and little Aaron to
Stargazing Live
.. We packed up our telescope and camera and headed off.. Becky wanted to get there on time, in the hopes of getting on TV
By the time we got there the TV news crew were just leaving, but I didn't say anything to Becky lol
We walked into the discovery centre and at the entrance were two Star Wars stormtroopers.. I thought that's odd? As we went further in we saw a number of people dressed up as characters from Star Wars, for a short moment I thought we had went to a Star Wars convention !!
The place was packed, I was lucky to find a seat, so I sat down with Aaron on my knee while Gary and Becky went for a walk to check the place out and see what's going on
Mins later, Becky came over with her dad asking if I can take her to the toilet..
As we were walking towards the toilets, right in the middle of the corridor was a guy dressed in a really good Darth Vader costume, kids were getting some pictures taken with him.. Becky was itching to get to the bathroom, so I politely put my head down and tried to get by them.... Just as I was sneaking past, Darth Vader stopped us, high fives Becky and offered a picture.. All I could say was - "My daughter really needs to use the bathroom, we can take a picture when we are finished"..I put my head down and rushed Becky into the toilets fast..
When we came out he was still there..Becky looked up at me saying - "Mommy, have you got your camera?" ..All I had was my phone, but it had a camera on it so I used it ..I had left my good camera in the car ..
Here is the picture I took with my phone.. It's not really good, but it turned out ok ..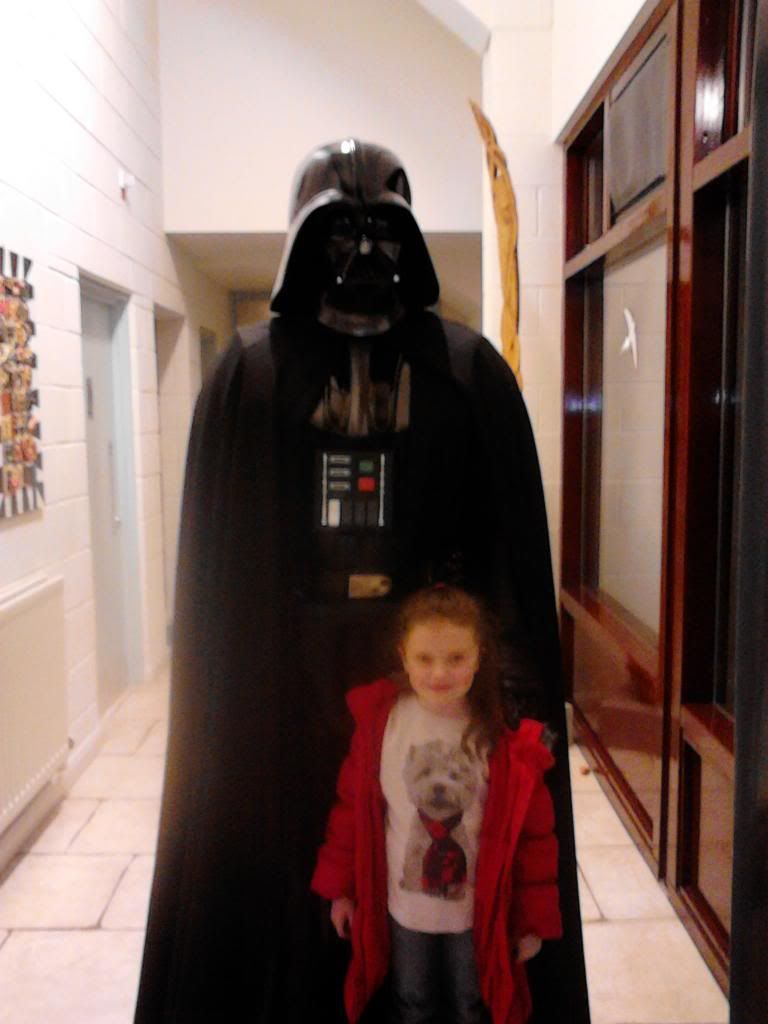 Becky was nervous, she thought the guy was strange in his costume, she had no idea who he was supposed to be.....I thought his costume was fantastic, he even had the Darth Vader sound effects .. I was standing ( with my boots on ) 5 ft 9" tall, and he was a lot taller than me..I couldn't get over the height of this guy..
As we went off Becky said -
"Mommy...who is Dark Vader?"
She thought we called him dark instead of darth... I remember as a kid I used to call him dark vader too
It just hit me, Becky has never seen any of the Star Wars movies.. So I promised her I would let her sit down and watch episodes 4, 5 and 6 as they are the best...
She has watched episode 4 today and now she thinks she has actually met the real Darth Vader.. All I could hear was. " Oh my goodness, I cannot wait until I get to school on Monday and tell everyone who I met, they will be so jealous"
A good few people had their telescopes set up..We thought our telescope was big, until we saw a few others who had larger telescopes and a better view... We managed a few pictures of Jupiter and her moons... It was not a bad night..The boat ride was awful..I couldn't wait to get off the boat, I felt a bit queezy and Aaron was trying to eat the tablecloth below the deck...sigh lol
The night was so cold, I couldn't wait to get home..We were there from 6pm to 8.30pm.. They had an educational show on for the kiddies, which was good.. I think everything was free - DVD's, posters and books etc.. It was a good set up but I still was tired holding the baby, standing about waiting on them to see what they wanted to see.. If it was not a cold night, it wouldn't have been as bad..
Overall the night wasn't bad.. Becky enjoyed seeing those dressed in Star Wars costumes, the show and exploring space objects, she asked one of the organizers from the BBC if she can keep a space rock..The guy from the BBC thought she was joking, and politely laughed it off, offering her some space postcards and a book.. But Becky was serious, she really wanted to know if she could take home some rocks from space?