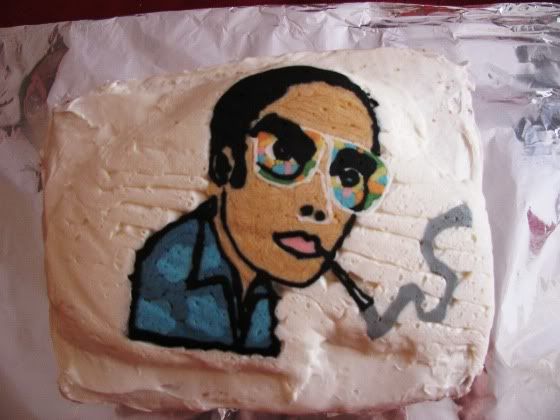 So for my boyfriend/fiance whatever you want to call him 41'st birthday, I had my sis in law, daughter, and sister make him a Hunter S. Thompson birthday cake. He really liked it and I think it turned out swell.
My brother who turned 35 got a Yoshi cake:
My brother's birthday was on May 28 and my bf's is today May 30th.
I bought the bf three movies he wanted:
Monty Python and the Holy Grail
,
MP and the Meaning of Life
and
Blazing Saddles
. My mom cooked him his favorite meal of salmon patties, squash casserole, potatoes au gratin, green beans and rolls on Sunday and I'm cooking him some pasta and pork chops tonight.
Still coolest cake ever, huh?