PersonFromPorlock, on 13 June 2013 - 03:01 AM, said:
Don't overlook the possibility of plain structural failure in the nose cone: there's a lot of pressure on it at speed and some unnoticed damage might weaken it enough for it to collapse locally.

its happened before to a northwest airlines flight in 2008, what was described as a minor maintenance issue (because it sounds better than structural failure) happen to flight 478 before it landed at tampa. Aren't nose cones normally the only bit of the aircraft shell not made of metal?
here's a photo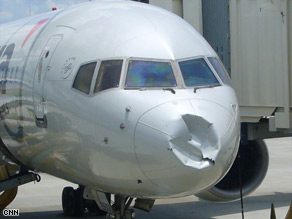 oh and just a note the highest flying bird ever recorded was a ruppells vulture at 36,100ft
Edited by Cynical Sounds, 13 June 2013 - 07:31 AM.