First of all I'd like to thank those of you for posting kind comments in my profile concerning my little boy ...I am sorry for the delayed reply, I have been busy getting ready for Christmas and over Christmas with my family
Approx two weeks ago, I could hear Aarons chest and I could hear a bubbling sound from his little chest.. I took him to the doctor, he said young Aaron was fine, it was just a bit of mucus behind his nose, he will be Ok ... I left the doctors office and still for some reason I felt there was more to it.. My husband said I was just getting worried over nothing and the doctor was right, but again, I couldn't shift that nagging feeling that something else was wrong?
A week later, I insisted on taking him again, and again the doctor said, it was still nothing...Gary nagged at me a little and said to quit worrying it was nothing and reminded me that the doctor was right and I am wrong..
A few days just before Christmas that bubbling noise was louder and he was coughing. Shortly afterwards, he was not taking his bottle and he was sick with a high temperature... The coughing was going on and on, keeping him up at night..
Gary insisted he will take Aaron to the doctor and he later came back telling me that we have to take Aaron straight over to the hospital to have his chest looked at, as the doctor was worried about his chest..
The doctor who later examined him, said that Aaron has bronchiolitis which would cause the bubbling sound in his chest when breathing.. I knew there was something up, I don't know why I felt something was wrong, I just did..!!
Aaron also had a tummy bug that put him off his bottle making him sick.. He was too small and too young to have something down his throat to draw out the mucus, so they put him on a salt water nebulizer for a while... It seemed to help a lot... After a while Aaron's coughing soon went away and he was back to himself again..
Christmas Eve
came,I was up early baking chocolate cupcakes and mince pies, while Gary dashed off to get some last min shopping. Becky was feeling poorly with a high temperature and head cold..Her eyes were red and was so pale, she didn't eat much... Gary told me there was 9 kids from Becky's class, who were off sick with the cold and flu .. It didn't stop her from looking forward to Santa coming that night as she went to bed early.
I was on my feet all day cleaning and baking, trying to see to the kids and get things ready for Christmas day..It was madness at home.. That night I lay down to rest my feet watching House and I fell asleep..I didn't get to lay out the presents, but thankfully Gary did.
This is how the conservatory looked late night Christmas Eve ( before the kids got at it ) ..A number of the presents were sent by grandparents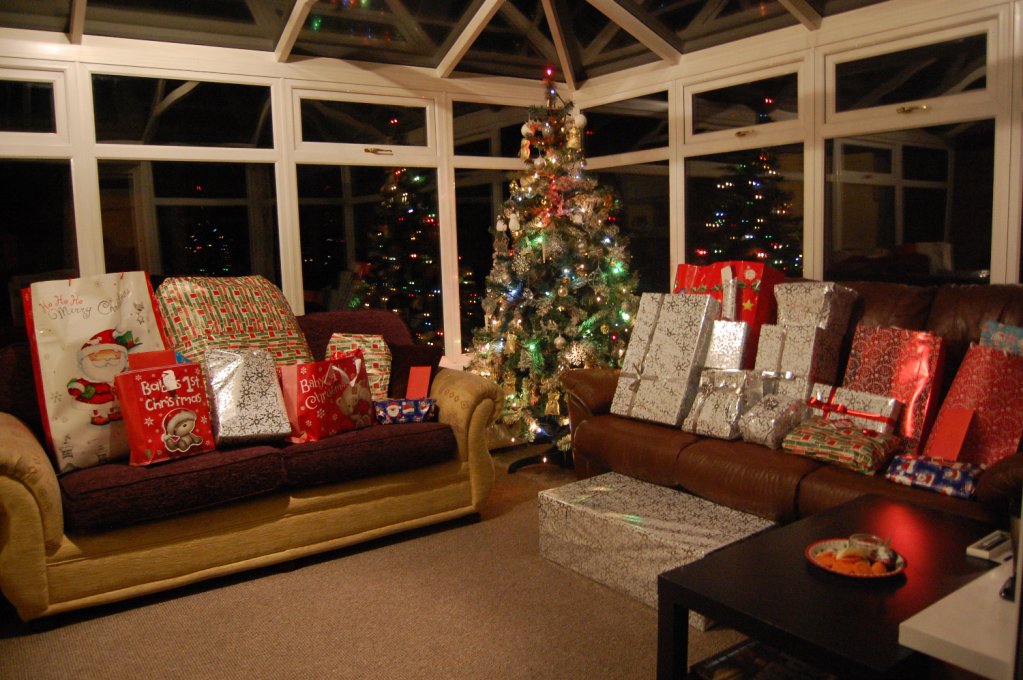 Little Aaron opening one of his presents he got from Grandma
This is Becky showing off her chemistry set that she had asked Santa for ....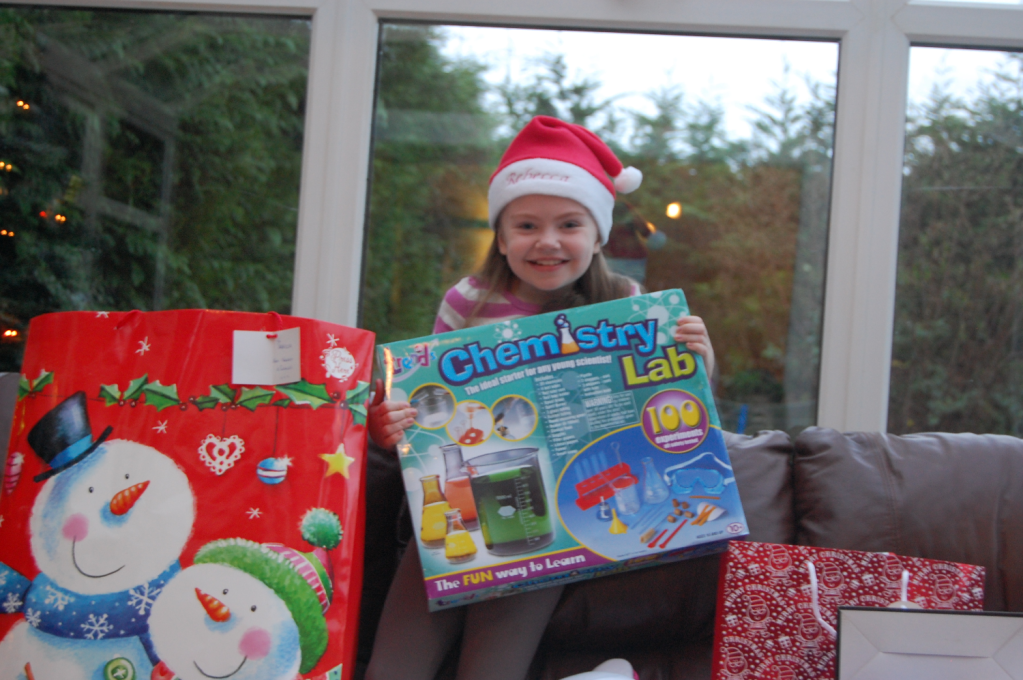 Among other things, she was so happy to get her Elvis poster ....sigh I really cannot see how she likes him.. Each to their own lol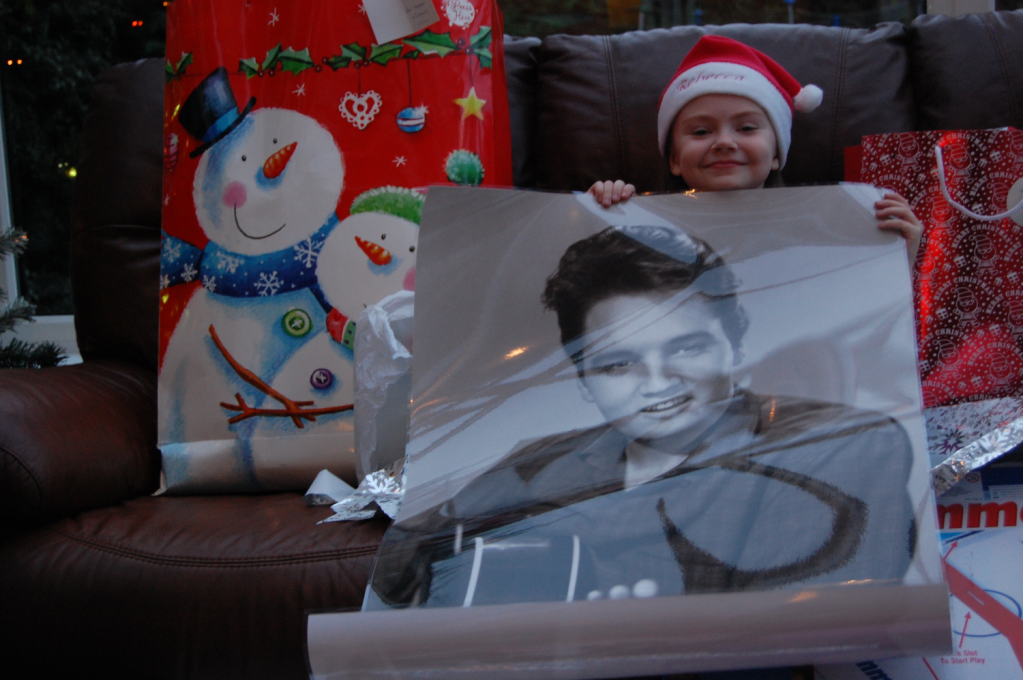 Aaron was not really interested in presents, he was more keen on the wrapping paper...!
I put together a before and after picture of our conservatory ..Christmas Eve and Christmas Morning...the aftermath ..
Christmas dinner was lovely.. Gary copied some recopies from Jamie Olivers site and made the best stuffing and gravy I have ever tasted.. I prepared the rest....
Becky was still feeling poorly, so she lay down and couldn't eat much that day... I knew she was sick when she wouldn't look at any chocolate lol I gave her some children's medicine and I carried on cleaning up after everyone, doing the dishes and so on...
The cats had a nice feed too, they seemed to like the left over Christmas ham and Misty ate some of Garys home-made stuffing.
After all my work was done, I enjoyed a nice cup of tea from my new tea pot.. Gary told me that for once I should ask for something for myself and I said OK I would like a new tea pot... I didn't think he would remember, but he did, he got me a new tea pot, one that I could set on my stove.. it was great..
I never really care about what I get..I care more for what my kids get and I like to be up doing things and preparing..Christmas is not about me, it's about my children, but Gary thought I did deserve something, he nagged and I gave in to a tea pot !!
Boxing Day... Becky is still recovering and Aaron is in good form...
This is Aaron ( Now 7 and a half months old, and getting bigger every day ) in a new baby walker, he is one heck of a little mover in that thing...He sometimes bangs into a wall or a door and can't reverse lol
Glad that I have Christmas over with.. It was a busy time for me..I guess it was for many others... But now, I can relax a little more and have some nice cups of tea from my new tea pot
I hope you all had a wonderful Christmas and hope you all have an excellent new year...
PS ... the world still didn't end ha ha.. We didn't even get snow.. oh Well I am sure another cheerful doomsday date will pop up
Geri