To show you all once again why I think the OLB most certainly mentions astronomy/astrology:
Hwat hyr boppa staet send thi têkna fon thaet jol. Thaet is thaet forma sinnebild Wr.aldas, âk fon t-anfang jeftha-t bijin, wêrut tid kêm, thaet is thene Kroder thêr êvg mith thaet jol mot ommehlâpa.
What appears at the top is the signs of the Juul—that is, the first symbol of Wr-alda, also of the origin or beginning from which Time is derived; this is the Kroder, which must always go round with the Juul.
Wralda created time, Kroder carries it around.
Chronos is about the passage of time, and that would be equal to the Kroder/Carrier who carries time around the Yule/Year wheel.
Kroder => kruier => carrier.
What the kruier/carrier uses is a 'kroder' or wheelbarrow.
The Christian Chi-Rho sign:
The OLB describes the same sign, and calls the loop of the -P- the "kroder", or wheelbarow.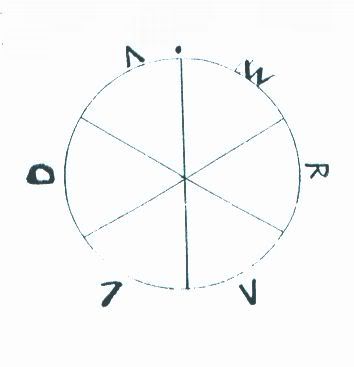 Try not to think of the sky as flat. Rather, imagine a small ball inside a very big ball. Now imagine that you are standing on the small ball at its north pole. All around you from your zenith (straight overhead) to your horizon you can see the inside of the big ball. On it are painted the stars and constellations. Now imagine that the ball you are standing on starts to spin slowly on its north /south axis. Remember, you are standing on the top of its northern axis of rotation. You would begin to notice the constellations moving around you. If you looked straight up, you would see the North Star, Polaris. If you watched the rotation of the objects for one full turn of the small ball, you would notice that everything had turned nicely around Polaris. You would also be able to see all of the constellations moving around your horizon. This is very much how you would see the heavens from our north pole.

The following animation illustrates how the Big Dipper would move around Polaris and the Little Dipper.
.
Edited by Abramelin, 18 December 2011 - 04:11 PM.