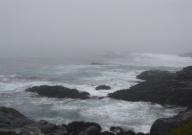 Image credit: sxc.hu
Matt Forde: The straits of Malacca near Sumatra have long borne witness to the passage of trading ships. Ivory, fabrics, perfumes, glassware and precious stones have passed through the straitís Pacific waters, stowed in countless cargo holds, eventually to settle in far flung places around the globe. Over the centuries, most of these merchantmen reached their destinations safely. However, the quiet peace was broken one day in June 1947 when a forbidding SOS message drifted across the airwaves: ďAll officers including captain are dead lying in chartroom and bridge.Ē read the message. ďPossibly whole crew dead." This was followed by some indecipherable Morse code chatter, probably more SOS signals, and then one final grisly message... "I die." And then, silence.
The macabre distress call was picked up by numerous ships and Dutch and British listening posts who, through triangulation, identified the vessel as the Dutch freighter SS Ourang Medan and located its approximate position within the straits of Malacca. Of the two American merchant ships that heard the Ourang Medanís grim message, the 6,507tn Silver Star was the nearest and she raced to the aid of the stricken vessel.
View:
Full Article