Left-Field, on 29 November 2012 - 09:20 AM, said:
There have been numerous reports of Osama bin Laden's death prior to 2011. If I recall correctly, I think George W. Bush even floated the notion out there at one point that he thought bin Laden may be dead even while the "search" for him was still taking place - or at least being sold to the general public.
I found the following video interesting as well. And it seems entirely plausible to me:
There is also information available which indicates Osama bin Laden was involved with the CIA at some point in time (mid-1980s).
Read post # 141 and # 147 to understand why it wasn't plausible at all.
Quote
'Bin Laden' tape: Obama can't stop war

September 14, 2009

(CNN) -- An audio message purportedly from al Qaeda leader Osama bin Laden has accused President Barack Obama of being unable to fulfil his election pledge to pull U.S. troops out of Iraq.

On what date was Barack Obama first elected to the presidency of the United States?
Quote
Bin Laden's daughter confirms her father shot dead by US Special Forces in Pakistan
Senior Pakistani security officials said Osama bin Laden's daughter had confirmed her father was captured alive and shot dead by the US Special Forces during the first few minutes of the operation carried out at the huge compound in Bilal Town, Abbottabad. 


Besides recovering four bullet-riddled bodies from the compound, Pakistani security agencies also arrested two women and six children, aged between 2 and 12 years, after American forces flew toward Afghanistan. Some reports suggest 16 people, including women and children, were arrested from the house, most of them Arab nationals.
A Pakistani security source told Al Arabiya that Bin Laden family members had been transported to Rawalpindi, which is near Islamabad. He added, "They are now under treatment in the military hospital of Rawalpindi, where they have been transported in an helicopter." A source told Al Arabiya that Bin Laden's wife had been injured either in her leg or her shoulder.
http://english.alara.../04/147782.html
---------------------------------------------------------------
Text: Al Qaeda statement confirming bin Laden's death
(Reuters) - Following is an abridged version of the text of the statement issued by Al Qaeda on the death of Osama bin Laden. The translation from Arabic is by Reuters.
"Congratulations to the Islamic nation on the martyrdom of its good son Osama after a life full of effort and work, determination and patience, incitement and holy struggle, generosity and giving, emigration and travel, advice and good preparation, wisdom and experience...
"That the Americans were able to kill Osama is not shameful to us. Where else do men and heroes die except on the battlefield? Every end is predestined. But can the Americans with their media, agents, machinery, soldiers, intelligence and equipment kill what Sheikh Osama lived and fought for? Never, never. Sheikh Osama did not build an organization that will die with his death and leave with his departure..."
http://www.reuters.c...E74563U20110506
------------------------------------------------------------------
Al Qaeda, in Web message, confirms bin Laden's death
(CNN)
-- Al Qaeda released a statement on jihadist forums Friday confirming the death of its leader, Osama bin Laden, according to SITE Intelligence Group, which monitors Islamist websites.
The development comes days after U.S. troops killed bin Laden in a raid on a compound in the Pakistani city of Abbottabad.
The statement, translated by SITE, lauded the late militant, threatened to take action against the United States, and urged Pakistanis to "rise up and revolt." Bin Laden's death will serve as a "curse that chases the Americans and their agents, and goes after them inside and outside their countries," the message said.
http://www.cnn.com/2...ment/index.html
---------------------------------------------------------------
Secret, stealth chopper in compound wreckage?
Photos of Black Hawk blown up at bin Laden's compound reveal modifications
WASHINGTON
— Images of the wreckage of the helicopter left behind at Osama bin Laden's compound by U.S. forces have prompted speculation that the chopper is a secret, highly-modified version of the military's iconic Black Hawk.
The stricken aircraft, which commandos blew up at the scene, appears to be a long-rumored stealth helicopter, NBC News reported; a Black Hawk modified to reduce rotor noise and make it more difficult to detect by radar.
http://www.msnbc.msn...pound-wreckage/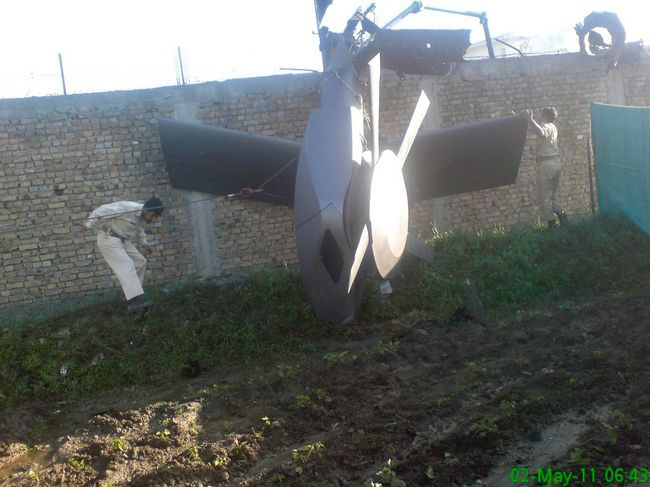 http://defensetech.o...ight-look-like/
--------------------------------------------------------------------
And now, only one senior al Qaeda leader left
Washington (CNN)
-- The news that Abu Yahya al-Libi, the No.2 leader of al Qaeda, is now
confirmed to have been killed
in a CIA drone strike in Pakistan's tribal region along the border with Afghanistan further underlines that the terrorist group that launched the 9/11 attacks is now more or less out of business. Under President Barack Obama, CIA drone strikes have killed 15 of the most
important players
in al Qaeda, according to a count maintained by the New America Foundation (a nonpartisan think tank where I am a director).
Similarly, President George W. Bush also authorized drone strikes that killed 16 important al Qaeda operatives in Pakistan while he was in office. As a result, according to senior U.S. counterterrorism officials, there now remains only one leader of any consequence in al Qaeda and that is Ayman al-Zawahiri, the tetchy Egyptian surgeon who
became the head of the group following the death of its founder, Osama bin Laden
, in a U.S. Navy SEAL raid in Pakistan in May 2011.
http://www.cnn.com/2...left/index.html
Edited by skyeagle409, 29 November 2012 - 10:52 AM.