flyingswan, on 22 November 2012 - 05:50 PM, said:
You do love misleading cherry-picked quotes, don't you. What NIST actually said was that while the fires were similar, the other buildings "did not collapse due to differences in the design of the structural system".

You do love talking nonesense and misrepresentation of my position, don't you. NIST found precedent in those previous fires and obviously a degree of similarity in examples of the building structures mentioned (i.e. steel-framed, high-rise structures - otherwise NIST would not have selected those particular examples). In all, whilst not a
perfect
match (which was not my point in the first place – this is about
precedent
, not
carbon-copy replication
), NIST do indicate in the text quoted that these
non-collapse
examples are the
most relevant
comparisons/precedent available (which
is
my point). So whinge away, but my point is correct and NIST agree.
Oh and 'structural differences'? Yes, only because NIST, to provide the 'correct' answer, were forced to conclude that the first skyscraper in history, unlike all other examples, was susceptible to 'progressive collapse' due to loss of a few floor trusses - a phenomenon usually reserved for determinate element warehouse type structures, not indeterminate element high-rises. It's completely absurd. The closest example of such a large structure suffering progressive collapse would be the Murrah Federal Building/Oklahoma City bombing, which despite the official study attributing it to,
"a chain reaction of successive failures that collapses the whole building"
(same investigator as for the initial WTC study by the way), a study by the Air Force at Eglin actually concluded,
"it is impossible to ascribe the damage that occurred on April 19, 1995 to a single truck bomb ... The damage to the Murrah Federal Building is consistent with damage resulting from mechanically coupled devices placed locally within the structure ... It must be concluded that the damage at the Murrah Federal Building is not the result of the truck bomb itself, but rather due to other factors such as locally placed charges within the building itself."
Now
there's
some precedent.
It is in plain sight: -
"Shortly before the building collapsed, several NYPD officers and Con-Edison workers told me that Larry Silverstein, the property developer of One World Financial Center was on the phone with his insurance carrier to see if they would authorize the controlled demolition of the building........ "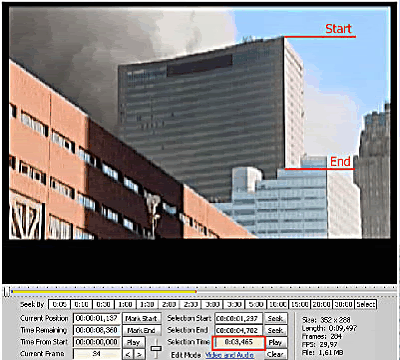 Now are you going to whinge that I cherry-picked the quote to exclude that the demolition was proposed for safety reasons? Well I don't care for the
reason
so much as first establishing that it clearly
was
a demolition. Fire indeed, bull****. As time goes by people will only look more foolish than they already do for making this hopeful argument. I don't think most of the public, even official story adherents, really believe it anymore.