Puzz, I read your post about the Prussian/ Aesti (one page back), and although I agree with most of it, i dont agree with what you said about the Phrygians and Priam.
Anyway, I found a bit more.
From this online book (
HERE
) I made a screenshot of an interesting page :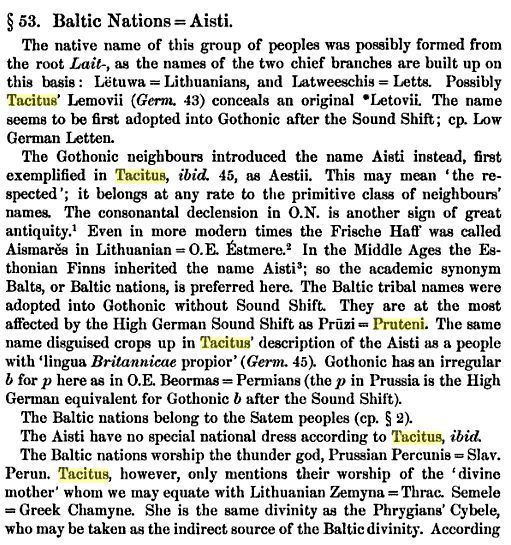 And read what Tacitus had to say about the language of these 'Pruteni' or Aesti...
And another interesting bit about the old Prussians:
Is it all Vikings where Scandinavians? Actually not. In stony Scandinavia wasn't enough population to conquer so many lands of West Europe and even to enrich them by new population … . It was possible (to conquer WE) just because the centre of Viking movement where Prussia-Lithuania-Kuronia-Gotland - lands chronicles described as the Sarmatia Europea … .

Russian Primary Chronicle (Chronicle of Nestor or Kiev Chronicle , Russian Povest vremennykh let "Tale of Bygone Years" 1040-1118 CE), the Rus were a group of "Varangians," possibly of Prussian origin, who had a leader named RuRiks. Rus appears to be derived from the baltic word for land/island, * Russitten, later Rusne, which in turn comes from Baltic/Prussian usenti, Rusinti a word associated with offering, sacrifice, to burn are fire for Gods. Varangijans possibly comes from Prussian word 'Vytingis'/'Witing' (Slavic nations latter transformed it to 'Vitiazj'), 'a knight'. Even some Russian chronics telling stories about Varangians Prussian origin:
http://www.lietuvos....ai/vikingai.htm
Oh boy, and here is something more:
The Vistula Lagoon (Polish: Zalew Wiślany; Russian: Калининградский залив or Kaliningradskiy Zaliv; German: Frisches Haff; Lithuanian: Aistmarės) is a fresh water lagoon on the Baltic Sea separated from Gdańsk Bay by the Vistula Spit. It is sometimes known as the Vistula Bay or Vistula Gulf. The modern German name, Frisches Haff, is derived from an earlier form, Friesisches Haff.[1] Both this term and the earlier Polish name Zatoka Fryska[2] translate "Frisian Bay". In historical contexts, Frisches Haff can also refer to the Oder Lagoon.[1]
http://en.wikipedia..../Vistula_Lagoon
++++++++++
And to Alewyn:
I think that Wralda's Sea is not the Atlantic but actually the North Sea. One of the reasons is that a 1000 years ago the North Sea was called Mare Frisia.. because it was dominated by the Frisian seafarers/pirates. You will remember that the OLB says that Wralda's Sea was only for Frya's people, no one else was allowed to sail there.
Just like the Mare Frisia, or Frisian Sea, was only for the Frisians for centuries.
Edited by Abramelin, 24 October 2010 - 11:26 PM.