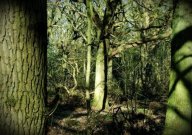 Image credit: sxc.hu
Matt Forde: Nestling amid the beautiful countryside of the Sussex Weald there is a little village called Burwash, where listed buildings flank the neat, meandering high street and rows of deciduous trees lead the visitor east to the 11th century church of St Bartholomew. A quaint and pleasant slice of English village life, indeed.
But underneath the picturesque, historic exterior lurks a dark legend concerning the woods that lie a little to the south. It is a legend that tells of the tragic demise of a man who would be fated to return from death to split the stillness of the East Sussex countryside with the horrific wailing of the tormented. The ghastly phantom that supposedly stalks through the aged trees of Gladwish Wood is believed to be David Leaney (perhaps Leary), a 19 year-old farm labourer who, despite insisting that he was innocent of the crime of murder, was hanged in 1825. Witnesses maintain that the unfortunate Leaney is ever restless, perhaps striving futilely to put right an ancient wrong.
View:
Full Article