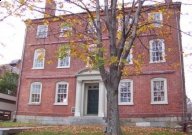 Image credit: Wikipedia
Matt Forde: The town of Salem, Massachusetts is no stranger to macabre record and disturbing legends, but for the first time perhaps something belonging to the town's supernatural facet has been caught on camera.
The Joshua Ward House has stood in mute witness to a dark history. The Georgian/Federal style building was constructed by Joshua Ward, a wealthy merchant sea captain, in the late 1780s on the remaining foundations of former sheriff George Corwin's house on Washington Street. Corwin was a bloody figure whose zeal added to the unfortunate events surrounding Salem in the late 1600s. Nicknamed 'The Strangler' after his preferred torture modus operandi (which included tying his prone victims' necks to their ankles until the blood ran from their noses), he is said to be responsible for many of the 'witches' deaths, including that of Giles Corey, a man who stood accused of witchcraft who Corey crushed to death by placing heavy stones on his chest in order to extract a confession (and, it must be said, to seize his property). Despite the horrific treatment Corey never confessed, indeed he is said to have implored his torturers to pile on more rocks and hasten his departure.
View:
Full Article