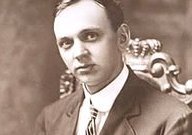 Image credit: Wikipedia
William B Stoecker: Edgar Cayce, the so-called "sleeping prophet" of Virginia Beach, Virginia, has been elevated to cult status by the true believers. Books have been written about him, and his life and work are discussed, generally uncritically, on various television programs. But, whether he was a scam artist or a sincere believer in his own nonexistent abilities, there is no real proof that the "cures" he prescribed for the sick really worked. And as for his numerous prophecies, the years have come and gone and every last one of them has failed to come true.
Cayce was born on 3/18/1877 near Beverly, Kentucky, seven miles from Hopkinsville, where his family moved while he was still quite young. He made it through the eighth grade and no further; in fairness, it must be pointed out that this was not unusual in those days, and that many schools then had much higher academic standards than today. He worked for some time in a book store in Hopkinsville, and did a lot of reading, showing a particular interest in books about Atlantis and Lemuria, and works by and about the Theosophists and the Rosicrucians. This is almost certainly where he formed many of his beliefs about the occult and about ancient history and prehistory; there is no evidence that he was not sincere in his opinions.
View:
Full Article