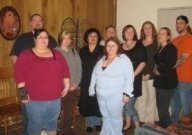 Image credit: Paul Dale Roberts
Paul Dale Roberts: The date February 13, 2010. HPI Paranormal Investigator Ann Dupire picks me up from my home and we head out on the long stretch to Yuba City. Tonight should be an interesting night, because we are investigation three apartments in one apartment complex that are reputed to be haunted. In fact all three apartments are next to each other, one is on the bottom, one is on the top and one is next door to the bottom apartment.
HPI Paranormal Investigators present for this investigation are: Ann Dupire, Staci Butler, Scot Shepherd, Jennifer Newell/Psychic. Lead Investigators for this investigation are Staci Butler and Ann Dupire.
View:
Full Article