lakeview rud, on 31 January 2013 - 03:04 PM, said:
Swede, I suggest you take a good look at the glyph in question. The rudder may not be shaped like the one you pictured but I am not suggesting that its a later era "Viking" ship but an earlier bronze age vessel. Perhaps there's a double meaning to the shape as the ancients were quite fond of that type of thing. That being said the 'rudder' may indeed have proceeded the ship glyph but its placement at about the right angle in the right place and MOST importantly about in the center of a flat but angled section of the keel is quite telling! That is NOT a canoe as no canoes have that type of feature. Also notice how the angle of the keel precisely matches that of the upper portion of the rudder. Also the stick figures having different heights (I messed up as its the second to the end figure that is higher on the right) is quite similar to Swedish petroglyphs. You can look at Sweden Petroglyphs on Wikipedia but be advised that the ones they picture are from all over plus the earrings I mentioned earlier are a modern interpretation (sorry). As to what kind of implement carved these, I don't have a problem with them being carved with stone tools as perhaps the sculptor was improvising with what was on hand. There's also no doubt that there are so many carvings here that they took place over a long time frame so a mixture of Norse and Native Americans is quite possible.

Lakeview - Am again short on time but will attempt to address your concerns in the order of bolding.
1) First, one may wish to consider dating matters. The Scandinavian Bronze Age was comparatively short and ended some 1500 years prior to the currently understood date range of the Peterborough glyphs. In addition, the Bronze Age Scandinavian glyphs are notably different than those of Peterborough. For example (and yes Lightly, am attempting to keep you in mind):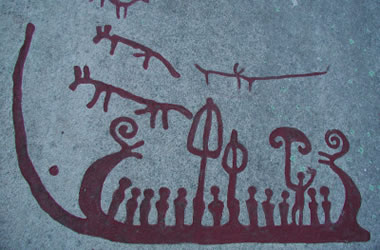 http://www.google.co...ved=0CDsQ9QEwAw
Numerous other examples are available. Some of these do depict a rudder. A narrow rudder.
2) My apologies for not being more specific in regards to the "rudder position". You will note that your "rudder" extends notably lower than the hull. This would not appear to be consistent with the shallow draft needs/capabilities associated with Scandinavian vessels of the general era. Nor would a "rudder" of such a dimension and form be at all practical. The water resistance to such an object would likely be beyond the physical capabilities of even the most robust steersman, particularly in inclement conditions.
As to your "interpretations" of keel-line shape, it would be advisable to be aware of the limitations of the glyph manufacturing processes of the time.
But let us look more closely into the geometric form which you consider to be a "rudder". See below.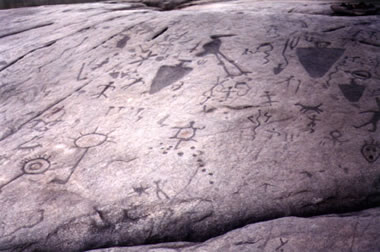 http://geology.com/a...troglyphs.shtml
These glyphs come from the same general area and are, of course, attributed to Amerindian manufacture. You will note that three of these glyphs are remarkably similar to your "rudder". You will also note that none of these three glyphs are remotely associated with a watercraft. At this juncture, one is confronted with an interesting conundrum. Would it be proposed that a given culture became so enamored with the form of an unevidenced rudder structure that it became a common motif? As further support of this particular point, please see the below, Figure 10.
http://www.ontarioar..._75_part_02.pdf
3) This last is pure and utter speculation and is lacking in any credible research-based data.
Edit: Typo.
Edited by Swede, 01 February 2013 - 01:21 AM.