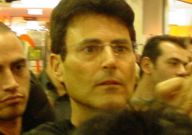 Image credit: Wikipedia
Peter Fotis Kapnistos: Metal bending celebrity Uri Geller first became conscious of his strange ability when he was approximately five years old. He was playing in a neighbor's yard in Tel Aviv when "a light from the sky" hit him and knocked him to the ground. Soon after that, he was having a bowl of soup — when his spoon bent and broke.
Years later, an Israeli man named Yaakov Avrahami recalled in the past going to a Tel Aviv bus station and seeing a ball of light: "At that certain moment I noticed a little boy with a white shirt come out from the building to the left." Avrahami said he saw the ball of light trail the youngster.
The exact cause and composition of ball lightning has yet to be determined. There may be several different varieties. But it usually appears as a grapefruit-sized sphere of light moving slowly through the air, which may end by fizzling out or exploding.
Prominent witnesses have observed ball lightning in previous times. In Acts 2:3, "tongues of fire" seemed to float around on the day of Pentecost. Czar Nicholas II, the last Emperor of Russia, reported seeing a ball of light float into the window of a small church while in the company of his grandfather: "The ball (it was of lightning) whirled around the floor, then passed the chandelier and flew out through the door into the park."
View:
Full Article