I've done a quick search for this to see if we'd talked about it before, but found nothing, so here goes...
A remarkable photographic image has been snapped on the morning of June 13, 2006, in a woman's backyard in the Midwestern state of Nebraska. KETV-7 in Omaha broadcast the picture on June 14, and it appears to be an animal unlike any most people have seen locally.
Story
Photo of the creature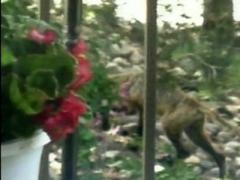 So, any ideas?
I can't help nut think that the creature's hind legs remind me of a dog. I wouldn't say it had stripes so much as brindle colouring.
Brindle colour
Dog weight pulling - note the shape of the back legs compared to the mystery animal.