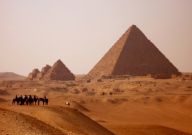 Image credit: stockxpert
Anthony North: In the early years of the 20th century an artifact was recovered from a shipwreck off the Greek island of Antikythera. Dated to about 80BC, it was considered a mere artifact. However in 1971 research on the Antikythera Mechanism showed it to have an intricate arrangement of gears, dials and graded plates.
One theory is that it was a computing device to work out the movement of the Sun and planets.

View:
Full Article
| Source:
Beyond the Blog