David Icke Newsletter, November 18th 2007
'UFOS ARE REAL' ...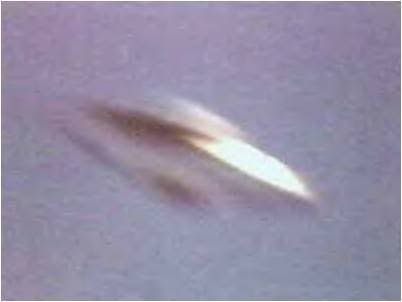 ... BUT WHY NOW?
Hello all ...
After decades of suppression and ridicule, the UFO debate is entering centre stage, or, at least, the mainstream media. Last Monday, a group of former Air Force, intelligence, government and aviation personnel from seven countries gathered at the National Press Club in Washington DC to demand Congressional hearings into the UFO cover up.
They claimed that the US government has been suppressing the evidence of extraterrestrial activity for more than 50 years. What's more, the group said they had witnessed UFOs themselves and so they knew from personal experience that they were real.
One of the witnesses was the former Governor of Arizona, Fife Symington, which was a surprise to anyone who remembers his behaviour, as governor, during the phenomenon known as the 'Phoenix Lights' in 1997. This was when thousands of people, many of them waiting to see the Hale-Bopp Comet, saw an enormous 'V'-shaped craft (some say round) glide silently across the Phoenix sky for some 30 minutes.
Onlookers at many locations in Phoenix and at least five other cities estimated the craft to be the size of many football fields, some said even a mile long. No credible explanation for this event has been produced and similar craft have been reported in England and Belgium.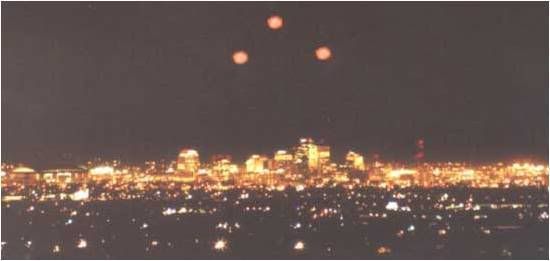 The Phoenix Lights in 1997
Governor Symington responded to public bewilderment and concern by calling a spoof press conference in which he produced the 'culprit' - his chief-of-staff Jay Heiler was marched handcuffed into the room dressed as an 'alien' and wearing a rubber mask. 'This just goes to show that you guys are entirely too serious', Symington told the media.
Now, ten years later, the same Symington was at the National Press Club to reveal himself as a true believer. He said that he had seen one of the Phoenix Lights craft himself: 'It was enormous and inexplicable', he said. 'Who knows where it came from? A lot of people saw it, and I saw it, too. It was dramatic. And it couldn't have been flares because it was too symmetrical. It had a geometric outline, a constant shape.'
Quite a conversion on the road to Damascus for Symington, well, the road to Phoenix, anyway, and, ironically, he now says: 'I wish that government entities would stop trying to shut down these investigations by putting out some flakey story'.
Other witnesses at the National Press Club told of how UFO sightings were systematically covered up. John Callahan, a former chief of accidents and investigations at the Federal Aviation Administration, said he was ordered by the CIA to suppress news of an incident involving a UFO and a Japanese airliner over Alaska in 1986. 'We were all sworn to secrecy that this event never happened', he said.
Michael Smith, a US Air Force air traffic controller more than 40 years ago, said that UFOs were so close to his military base in Michigan on one occasion that two B-52 bombers had to fly around them. Smith added that when he was stationed in Oregon he saw a UFO hovering at 80,000 feet, but was told not to report it. He said:
'NORAD [North American Aerospace Defense Command] called me one night to say there's a UFO coming up the California coastline. I asked them what to do. They said nothing, not to write it down.'
NASA design illustrator, Donna Hare, who has intelligence clearance, said that UFOs were routinely airbrushed out of high altitude photos of the Earth before being released to the public. She went on:
'A guard told me he was asked to burn some photographs and not to look at them. And there was another guard guarding him, watching him burn the photographs. He looked at one and it was a picture of a UFO and he immediately was hit in the head and had a big gash in his forehead.'
The National Press Club event was organised by the Disclosure Project (www.disclosureproject.org) and its most famous advocate, Stephen Greer. It has been pressing for government documents about UFO and extraterrestrial activity to be released since its origins in the early 1990s and now, suddenly, it is apparently making significant breakthroughs.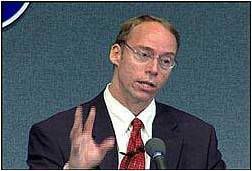 Stephen Greer
This week has seen major mainstream coverage of the UFO issue, including the Larry King Live show on CNN, which featured some of the Press Club participants and actress Shirley MacLaine, who claims to have seen a UFO.
Now, a few things to mention here. Firstly, the idea that humans on this tiny planet are the only life 'as we know it' in this reality is insane on the basis of statistical chance alone. Add to that the ability of advanced non-human races to move in and out of this reality from other frequencies or dimensions of existence and the staggering naivety of the 'We are alone' brigade morphs into view.
Simon Driver of the Australian National University Research School of Astronomy and Astrophysics and his team estimated in 2003 the number of stars in the known universe. The figure they agreed on was 70 sextillion - 70,000,000,000,000,000,000,000. 'This is not the total number of stars in the universe, but the number within the range of our telescopes,' Driver said.
Understandably, given figures like that, most people see the nonsense of the claim that humans are alone. A national poll in 2002 by the Sci-Fi Channel revealed that 72 percent of Americans believed the government is not telling the public everything it knows about UFO activity, and 68 percent thought the government knows more about extraterrestrial life than it is telling the public.
Given that governments are telling the people nothing about extraterrestrial life, the latter would not be difficult, but the point is taken. Other polls have put the figures as high as 95%.
But here's the important question in the light of recent mainstream coverage of the UFO/ET question. Why now? Why has the door opened after decades of secrecy and suppression to allow so many apparently credible witnesses to tell their stories to a mass audience?
It may be that years of pressure and persistence have forced the door to swing and allow the truth of extraterrestrial activity to be exposed and confirmed. It would be nice if that was the case, but now the
'But'
.
...
We have to be real careful here not to get carried away by the scent of 'victory'. There is nothing more manipulatable than genuineness that isn't streetwise. Back in the mid-1990s I was writing about the plan to unite the world behind a global dictatorship through the terror of an 'extraterrestrial invasion'. This was encapsulated by a quote attributed to Illuminati operative, Henry Kissinger, at the Bilderberg Group meeting in Evian, France, in May, 1992:
'Today Americans would be outraged if U.N. troops entered Los Angeles to restore order; tomorrow they will be grateful. This is especially true if they were told there was an outside threat from beyond, whether real or promulgated, that threatened our very existence. It is then that all peoples of the world will plead with world leaders to deliver them from this evil. The one thing every man fears is the unknown. When presented with this scenario, individual rights will be willingly relinquished for the guarantee of their well being granted to them by their world government.'
'We're coming to get yaaahhh!'

'Hold on, cut! Hey, make-up, does my head look big in this?'
Ronald Reagan, the puppet-president controlled by Father George Bush, recalled in 1985 how he had told the then Soviet President, Mikael Gorbachev: 'I couldn't help but say to [Gorbachev], how easy his task and mine might be if suddenly there was a threat to this world from some other species from another planet outside in the universe. We'd forget all the little local differences ... and find out once and for all that we really are all human beings here on this Earth'. Two years later, Reagan told the United Nations General Assembly:
'Perhaps we need some outside, universal threat to make us recognize the common bond that unites all humanity. How quickly our differences worldwide would vanish if we were facing an alien threat from outside this world. And yet I ask you, is not an alien threat already among us?'
Yes it is, and it was controlling Reagan, but the idea is not to launch an apparent battle for the planet against the Reptilian and associated 'Grey' species that are truly in power behind the scenes, but to either target extraterrestrial groups with a benevolent agenda to create a fake 'enemy', or to stage the whole 'threat' using 'extraterrestrial' flying craft actually flown by humans or even engage holographic technology to project 'battles in the sky'.
The technology for both already exists and the plan has been exposed by many researchers, insiders and writers over the years. It is called Project Blue Beam. I have mentioned this in a previous newsletter - 'Are These The End Times?' - and this becomes even more relevant in the light of the rapidly expanding profile of UFO activity.
One of the stages listed for Project Blue Beam was a period when awareness of extraterrestrial interaction with the planet would be increased in the media, preparing people for the announcement that we are under attack from an 'alien' invasion.
This would then lead to countries pooling their military and other resources behind a sort of centralised global 'war cabinet' to coordinate the response to this threat to the 'whole world'. In other words, a world army and world government - the long-time Illuminati goal. Other 'stages' in the Blue Beam scenario include:
Fake archaeological 'discoveries' to discredit the beliefs of the major religions and show that they are in error.
A massive 3-D global holographic stage show in the sky with sound and lasers with specific images projected to different parts of the world to fit with the major religious beliefs of each region. Their version of 'God' or the 'Messiah' would speak to them and tell them 'the truth'. Researchers and insiders say that these will include projections of Jesus, Mohammed, Buddha, Krishna and other leading religious heroes. They will eventually be seen to merge into one - the fusion or 'Antichrist' deity that will be the focus of the One World Religion ... the religion of Babylon.
All this, it is said, will happen amid great upheaval in the world caused by war and 'natural' disaster and include a staged holographic extraterrestrial 'invasion', from which the 'Antichrist', or world dictator, will be seen to 'save us'.
The irony of all this is that the fake extraterrestrial invasion would be co-ordinated by the elite families who are 'human' fronts for the Reptilian species that has been manipulating this planet and its people for at least thousands of years.
'Alien' invasion, thwarted by all-American heroes, in the 1996 movie, Independence Day
I was chatting about all this in 2006 with Stewart Swerdlow, who learned of Project Blue Beam while in the US military mind-control programme at Montauk on Long Island, New York. He says the majority of UFO sightings and 'alien abductions' are actually the work of the human military for mind-control and other projects, including the creation of 'I saw a UFO' stories.
It's all smoke and mirrors. Yes, there is extraterrestrial activity on and around the Earth, but not every piece of technology in advance of what we see in the public arena is of non-human origin. The science in the underground bases, of which there are legion around the world, is light-years ahead of anything the public are allowed to know exists. This makes the manipulation of human activity to appear 'alien' to be child's play.
Project Blue Beam was planned to be activated amid great upheavals in the Middle East, and the gathering mainstream promotion of the UFO/extraterrestrial issue that we are now seeing has appeared at a time you would expect in the unfolding timescale for this global trickery.
That is not to say that those telling their stories to millions of people in the last week or so are all manipulating the masses for Blue Beam. I am sure that at least the vast majority are genuine people trying to tell genuine stories. That is not the point.
It is that now the mainstream media has been made available to them and we can expect this to continue if this is indeed Project Blue Beam at work. I understand why UFO disclosure campaigners have been jumping for joy at the recent mass communication, but all is rarely as it seems.
If you see the US President or some other figure telling you that they have been keeping the news from the people to avoid mass panic, but now they have no choice but to say that the Earth is under attack from 'aliens', you'll know Blue Beam is upon us.
As they used to say in those cowboy movies: keep your eyes peeled with this one.
This is a David icke article. Any thoughts?