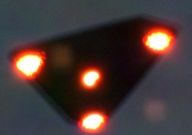 Image credit: JS Henrardi, 1990
The sighting of a UFO in early November excited the Turkish public, with pictures appearing in both tabloids and more serious papers. The flying object was spotted in the Karaköprü area of Sanliurfa province at around 4 a.
m. on November 4. Filmed on amateur video, the strange hexagonal ball of light hovered in the sky emitting red, green and white lights and moved quickly and erratically. After 15 minutes it disappeared without a trace.

View:
Full Article
| Source:
Todays Zaman