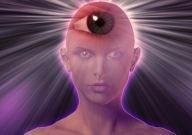 Image credit: stockxpert
Submitted by Peace Crusader: A girl born with three eyes and two noses has been attracting hordes of people who believe her to be an incarnation of Hindu god Shiva. The birth of the 'wonder girl' in Angara block of Ranchi created quite a stir last week with villagers queuing up for a glimpse of the baby.
'People from far-flung areas are coming for a glimpse of my daughter.

View:
Full Article
| Source:
RXPG news