An article entitled "Dating the Libyan Desert Silica-Glass" appeared in the British journal Nature (no. 170) in 1952. Said the author, Kenneth Oakley: Pieces of natural silica-glass up to 16 lb in weight occur scattered sparsely in an oval area, measuring 130 km north to south and 53 km from east to west, in the Sand Sea of the Libyan Desert. This remarkable material, which is almost pure (97 per cent silica), relatively light (sp. gin. 2.21), clear and yellowish-green in colour, has the qualities of a gemstone. It was discovered by the Egyptian Survey Expedition under Mr P.A. Clayton in 1932, and was thoroughly investigated by Dr L.J. Spencer, who joined a special expedition of the Survey for this purpose in 1934.
The pieces are found in sand-free corridors between north-south dune ridges, about 100 m high and 2-5 km apart. These corridors or "streets" have a rubbly surface, rather like that of a "speedway" track, formed by angular gravel and red loamy weathering debris overlying Nubian sandstone. The pieces of glass lie on this surface or partly embedded in it. Only a few small fragments were found below the surface, and none deeper than about one metre. All the pieces on the surface have been pitted or smoothed by sand-blast. The distribution of the glass is patchy.
While undoubtedly natural, the origin of the Libyan silica-glass is uncertain. In its constitution it resembles the tektites of supposed cosmic origin, but these are much smaller. Tektites are usually black, although one variety found in Bohemia and Moravia and known as moldavite is clear deep-green. The Libyan silica-glass has also been compared with the glass formed by the fusion of sand in the heat generated by the fall of a great meteorite; for example, at Wabar in Arabia and at Henbury in central Australia.
Reporting the findings of his expedition, Dr Spencer said that he had not been able to trace the Libyan glass to any source; no fragments of meteorites or indications of meteorite craters could be found in the area of its distribution. He said: "It seemed easier to assume that it had simply fallen from the sky."
It would be of considerable interest if the time of origin or arrival of the silica-glass in the Sand Sea could be determined geologically or archaeologically. Its restriction to the surface or top layer of a superficial deposit suggests that it is not of great antiquity from the geological point of view. On the other hand, it has clearly been there since prehistoric times. Some of the flakes were submitted to Egyptologists in Cairo, who regarded them as "late Neolithic or pre-dynastic". In spite of a careful search by Dr Spencer and the late Mr A. Lucas, no objects of silica-glass could be found in the collections from Tut-Ankh-Amen's tomb or from any of the other dynastic tombs. No potsherds were encountered in the silica-glass area, but in the neighbourhood of the flakings some "crude spear-points of glass" were found; also some quartzite implements, "quernstones" and ostrich-shell fragments.
http://www.image-con... oasis_ldg.html
http://www.schoolers...om/tektites.htm
http://www.nexusmaga...atomicwar1.html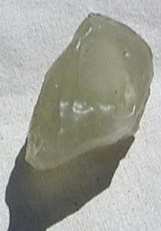 What do you think???