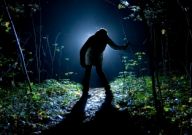 Image credit: stockxpert
Deep in the swamps of Florida, something is stirring. Witnesses to its haunting presence speak of howls in the night, unexplained footprints in the mud and glimpses between the trees of a fiery-eyed creature that reeks of death.
Now, a 30-strong team from The Bigfoot Field Researchers Organization (BFRO) has embarked on an expedition to try to flush out the mighty skunk ape - the Sunshine State's answer to the abominable snowman.

View:
Full Article
| Source:
Times Online