bogcreeper on Apr 25 2008, 09:08 AM, said:
Looking at all of the available information, I am finding it hard to believe that these earthly and heavinly stresses do not have more to do with our healths as a human race than many people seem to imagine. I say look out for an outflow of information in these scientific fields in the near future.Find this article at:
www.newscientist.com/article.ns?id=dn13769&print=true
A very interesting OP, Bogcreeper.
I will have to check out your other thread about geopathic stress.
I think you nailed it when you said "look out for an outflow of information in these scientific fields in the near future." The near future is upon us with regard to natural and man-made energy fields. There have been numerous studies done to date. The geomagnetic field has been difficult to study because it's always fluctuating, as seen in graph below.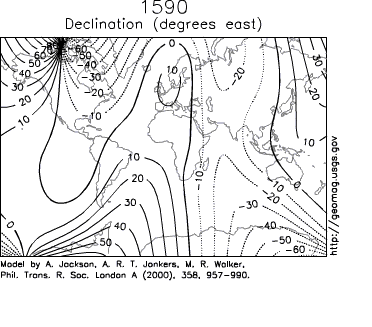 3 of many studies archived at PubMed.Gov:
Quote
We studied the relation between the intensity of cosmic rays, the level of solar/geomagnetic activity, and the monthly numbers of deaths in a large hospital in Israel and in all Lithuania. The Israeli data include 30526 hospital deaths, two groups of fatal suicides (2359, 2763), and 15435 suicidal attempts for two periods of 108 and 236 consecutive months. The national data for the entire Republic of Lithuania include 424925 deaths for the period of 120 consecutive months. Cosmic rays intensity was measured by an Apatity neutron monitor. We obtained the data on solar, geomagnetic radiovawe propagation, ionosphere ionization hours, proton flux of two energy levels (>90 and 60 MeV) from the National Geophysical Data Center at Goddard Space Flight Center, National Space Environment Center at Boulder, Colorado, USA, and from the Institute of Terrestrial Magnetism, Ionosphere and Radio Wave Propagation (IZMIRAN), Russia. We calculated Pearson coefficients and their probabilities for correlation between monthly space activity level and monthly number of male and female deaths from different causes. Cosmic rays activity revealed significant negative correlation with solar/geomagnetic activity indices and related physical phenomena levels. This activity strongly correlated with flux of protons with the energies >90 MeV proton flux and did not exhibit significant correlation with 60 MeV proton fluxes. Cosmic rays intensity correlation with monthly numbers of deaths was strong for noncardiovascular deaths, suicides, and traffic accidents. The correlation was much weaker for deaths caused by ishemic heart disease and strokes. PMID: 12099402 [PubMed - indexed for MEDLINE]
Source
Quote
Homicide and suicide are extremes in human behavior. The aim of this study is to investigate the connection by time between suicide and homicide, between them and other fatalities, and their links with the level of cosmophysical activity. METHODS: Using the national database of Lithuania (1990-2002) we found that 547,875 deaths, 4,638 homicides (3,374 male) and 19,527 (16,019 male) suicides were registered in that period. Their temporal distribution over 156 months was compared with solar and cosmic-ray activity. Pearson correlation coefficients and their probabilities were established. RESULTS: There was a correlation between monthly rates of homicide and male groups. Female suicide rates correlated with male and total homicide numbers. Both homicide and suicide rates were inversely correlated with solar and cosmic-ray activity. Suicide numbers, but not homicides, were inversely related to geomagnetic activity. Suicide rates were inversely correlated with total, cardiovascular, traffic accident, and sudden deaths; homicide with total, traffic accident, and sudden deaths. CONCLUSION: Temporal distribution of homicide and suicide is significantly interrelated. Both are linked to parameters of cosmophysical activity. The influence of cosmic rays deserves special attention. PMID: 16138745 [PubMed - indexed for MEDLINE]
Source
Quote
Do ambient electromagnetic fields affect behaviour? A demonstration of the relationship between geomagnetic storm activity and suicide. Berk M, Dodd S, Henry M.
Department of Clinical and Biomedical Sciences-Barwon Health, University of Melbourne, Geelong, Australia.

The relationship between ambient electromagnetic fields and human mood and behaviour is of great public health interest. The relationship between Ap indices of geomagnetic storm activity and national suicide statistics for Australia from 1968 to 2002 was studied. Ap index data was normalised so as to be globally uniform and gave a measure of storm activity for each day. A geomagnetic storm event was defined as a day in which the Ap index was equal to or exceeded 100 nT. Suicide data was a national tally of daily male and female death figures where suicide had been documented as the cause of death. A total of 51 845 males and 16 327 females were included. The average number of suicides was greatest in spring for males and females, and lowest in autumn for males and summer for females. Suicide amongst females increased significantly in autumn during concurrent periods of geomagnetic storm activity (P = .01). This pattern was not observed in males (P = .16). This suggests that perturbations in ambient electromagnetic field activity impact behaviour in a clinically meaningful manner. The study furthermore raises issues regarding other sources of stray electromagnetic fields and their effect on mental health. PMID: 16304696 [PubMed - indexed for MEDLINE]
Source
A large number of studies have identified significant physical, biological and health effects associated with changes in Solar and Geomagnetic Activity (S-GMA). Variations in solar activity, geomagnetic activity and ionospheric ion/electron concentrations are all mutually highly correlated and strongly linked by geophysical processes. A key scientific question is, what factor is it in the natural environment that causes the observed biological and physical effects? The effects include altered blood pressure and melatonin, increased cancer, reproductive, cardiac and neurological disease and death. Many occupational studies have found that exposure to ELF fields between 16.7 Hz and 50/60 Hz significantly reduces melatonin levels. They are also associated with the same and very similar health effects as the S-GMA effects. The cell membrane has an electric field of the order of 105 V/cm. The ELF brain waves operate at about 10-1 V/cm. Fish, birds, animalsand people have been shown to respond to ELF signals that produce tissue electric gradients of ULF/ELF oscillating signals at a threshold of 10-7 to 10-8 V/cm.This involves non-linear resonant absorption of ULF/ELF oscillating signals into systems that use natural ion oscillation signals in the same frequency range. A long-lived, globally available natural ULF/ELF signal, the Schumann Resonance signal, was investigated as the possible plausible biophysical mechanism for the observedS-GMA effects. It is found that the Schumann Resonance signal is extremely highly correlated with S-GMA indices of sunspot number and the Kp index. The physical mechanism is the ionospheric D-region ion/electron density that varies with S-GMA and forms the upper boundary of the resonant cavity in which the Schumann Resonance signal is formed. This provides strong support for identifying the Schumann Resonance signals as the S-GMA biophysical mechanism, primarily through a melatonin mechanism.
It strongly supports the classification of S-GMA as a natural hazard.
Source
The neurons involved in emotion, thinking, memory and reaction use oscillating calcium ion and neurotransmitter signals primarily in the frequency range below 50 Hz. The human EEG shares the same frequency range as a natural ELF signal, the Schumann Resonance, that propagate around the world with a diurnal and seasonal pattern that follows the human diurnal melatonin pattern. The intensity of the Schumann Resonance signal (frequencies between 6 and 50 cycles per second, specifically 7.8, 14, 20, 26, 33, 39 and 45 Hertz), with a daily variation of about +/- 0.5 Hertz, fluxes with Geomagnetic Activity (GMA) in a highly significantly correlated manner. Many animal studies find that ELF fields reduce melatonin. In 2001, more than 13 studies showed that people exposed to ELF fields have reduced melatonin. Since melatonin and serotonin are the primary circadian endocrine hormones, all vital organs, including the brain, hypothalamus, central nervous system, lymph system, immune system, heart, lungs, liver, kidneys, uterus, testes and fetus, have melatonin and serotonin receptors. Hence substances that alter the melatonin/serotonin balance can affect organs throughout the body.
I go into more detail in the links provided below. I've posted several studies showing the correlation of possible health risks when our bodies/brains are exposed and/or synchronize with these energy fields, both natural and man-made.
http://www.unexplained-mysteries.com/forum...p;#entry2221530
http://www.unexplained-mysteries.com/forum...p;#entry2224924