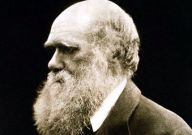 Image credit: Julia Margaret Cameron
William B Stoecker: Modern atheist/materialist science insists that evolution is governed solely by random mutation and natural selection, and that heredity and the forms of organisms are controlled only by DNA. But evidence is mounting that this materialist interpretation simply doesn't work, and that something else is involved in every aspect of life, something denied by the atheist elites.
To begin with, natural selection works well enough to explain micro evolution, or variations within a species, but it fails utterly to explain macro evolution, or the origin of species (the title of Darwin's major work). The evidence for intelligent design is so massive that entire books have been written on the subject, but a few of the main points can be summarized here.
First is the problem of irreducible complexity. It begins at the cellular level. Darwin and his supporters like Huxley imagined that cells are simple lumps of cytoplasm, when, in reality, they are incredibly complex structures wherein a variety of complex chemical reactions involving exceedingly large and complex molecules take place. All the components of the cell have to work in concert for the cell to live. For example, some one celled creatures propel themselves through water with a rotating whip like appendage called a flagellum, which is moved by a structure bearing an eerie resemblance to a kind of electric motor, with electrically charged rotor and stator rings. Every part of this structure had to be in place at the beginning for it to function at all; if it had "evolved" gradually there would have been stages when the cell would be saddled with, for example, a worthless stator ring and nothing else. Such a worthless appendage would be a drag on the organism and ensure, not its survival, but its demise. The vesicular transport system within a cell is also irreducibly complex; it transfers enzymes (certain types of proteins) from the ribosomes, where they are constructed, to the lysosomes and other structures, where they are needed. Above the cellular level there are numerous examples of irreducible complexity, such as the various kinds of eyes that have "evolved" over and over in arthropods, cephalopods, and vertebrates, always involving exceedingly complex structures and even more complex chemical reactions that must take place in an exact sequence. The flight feathers of birds, with their complex, branching structure and interlocking barbules would be worthless either for insulation or flight if only partly developed.
Roughly half a billion years ago, only one celled organisms existed; at least no remains of anything more complex have been found and positively dated to any earlier period. Suddenly, in what has been called the Cambrian Explosion, a host of complex animals appeared. They had legs and claws and even eyes, fully formed from the beginning. Darwinian evolution cannot explain this.
Then there is the problem of sea animals abruptly "evolving" into land animals, or land animals returning to the sea or even taking to the air, with no real intermediate species. Once there were crustaceans in the water, and then there were arachnids and later insects on land. There were crawling insects and then, with no transitions, they flew. Understand that for an animal to fly it must have wings, specialized flight muscles, and flight behavior (a plane requires a pilot) all at once, all together, or it will fail and die, leaving no descendants. No fossil remains of gliding insects have ever been found. There were fish breathing water with their gills, and then there were amphibians whose eggs were laid in water and whose larvae (like tadpoles) had gills, while the adults usually had lungs and crawled or hopped about on land. Then there were reptiles whose leathery eggs could be laid on land without drying out, and who breathed air throughout their lives. Then there were huge marine reptiles...with no transition species ever found. Then, again with no transition, there were pterosaurs that flew, not merely glided, again requiring wings, flight muscles, and piloting skills. There were dinosaurs, and then there were birds, resembling dinosaurs but with flight feathers, wings, muscles, and the skill to use all of this. There was some kind of early mammal and then there were bats, who not only could fly, but who also used sonar, and their wings and sonar appear fully formed in the very oldest bat fossils.
Darwinism cannot explain symbiosis. Symbiotes are organisms of different species who work together. There is a kind of shrimp that can dig a burrow in the sea floor (and how did tunneling behavior "evolve"?) where it has a fish for a roomate; the fish's superior eyesight enables it to spot predators and give an alarm so both animals can hide indoors. There is, in tropical America, a plant known as a bullhorn acacia that has hollow thorns and a kind of pseudo fruit. A species of ant lives in the thorns, eats the fruit, and protects the plant from all of its enemies and competitors. But why would the plant evolve hollow thorns and pseudo fruit except to entice its ant defenders who had to exist and have the proper defensive behavior to begin with? And why would the ants have such behavior unless the acacia already existed in its fully symbiotic form? Actually, symbiotes are themselves a kind of irreducable complexity; every component has to be in place, fully developed, at the very beginning, or the whole system will fail.
Flowering plants, or angiosperms, appeared suddenly during the Cretaceous; before them the only really complex land plants were gymnosperms, like pine trees. The angiosperms are the largest example of symbiosis; they have flowers to attract and nectar to reward their pollinators, such as bees. But why waste valuable energy on such structures unless the pollinators already existed, and why would the pollinators "evolve" their pollinating behavior unless the angiosperms already existed? In fact, the angiosperms could not exist at all without the pollinators.
But their failure to explain the development of species is only one of the problems for the materialists. They insist that all of heredity is encoded in the DNA (deoxyribonucleic acid) in the genes, and that the genes completely control the development of every organism. But genes only carry a code to produce certain proteins, nothing more. That is not quite the same as determining structure. And even that is not well understood; researchers used to claim that human beings have some hundred thousand genes and that each gene codes for one, and only one protein. But the Human Genome Project found that thousands of genes patented by private companies do not even exist, and current estimates for the number of human genes have been downsized to perhaps thirty to thirty five thousand...no one really has a clue. And the human body is now known to contain at least 300,000 proteins; if each gene codes for one, there is a bit of a problem.
Biologists and geneticists have always been a bit hazy, to put it mildly, about how embryonic cells, all carrying the same genes, differentiate into completely separate tissues and organs in different parts of the body.
Enter Rupert Sheldrake. Fringe researchers and writers theorized that there might be "morphic fields," perhaps transcending time and space, that serve as a data base for mental and physical forms.
For example, a group of quartz crystals would generate such a field, and new crystals would tune into that field and their development would be controlled by it. They would also reinforce the field and add new information to it; this is called "morphic resonance." The "akashic records" mentioned in the ancient Hindu Vedas would be an example of a mental field, as would Jung's collective unconscious, which may be the same thing. Such fields might influence human culture and behavior. Needless to say, there is nothing in conventional physics that allows for any of this.
Rupert Sheldrake, with a PhD in biochemistry from Cambridge, is a fellow of the Institute for Noetic Sciences, founded by former astronaut Edgar Mitchell. In his 1981 book A New Science of Life: Hypothesis of Formative Causation he coined the term "morphogenetic field" for morphic fields that govern the development of living organisms. This would at least begin to explain how different tissues and organs develop in different parts of the body. Sheldrake believed that DNA might actually function like an antenna (the double helix even looks a bit like an antenna) and receive instructions from the field.
So intelligent design (which does, indeed, require a Designer) seems to explain evolution and morphogenetic fields seem to explain organ development. But the individual's part of the field, though connected with the rest of it, begins to sound like the astral body hypothesized by occultists. And does the act of procreation then involve merely sperm and egg, or is there a spiritual component? Is there some truth to the Catholic belief that the soul is injected into the body at the moment of concepcion? But note then that the soul, via the astral body, would govern the development of that body. And this interconnectedness of all things has long been a belief of mystics. And these fields may then play a role in the process of intelligent design, with the Supreme Being, either directly or through lesser angels, fairies, or nature spirits, modifiying the morphogenetic fields to create new life forms.
This is a truly exciting area of study, scoffed at by materialists. Proper research in this area might well lead to medical breakthroughs and even a higher spiritual understanding.
William B Stoecker