(((BRUTAL)))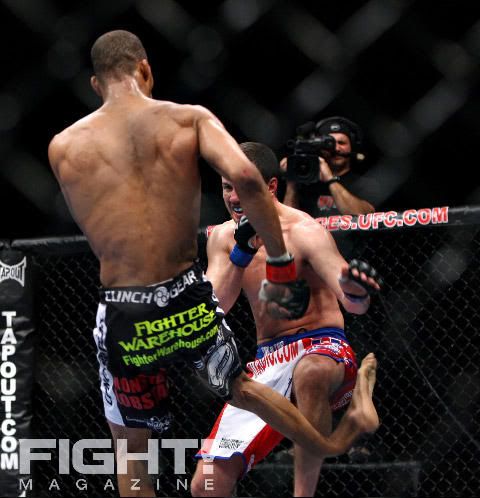 At last night's UFC Fight For The Troops, Corey Hill was doing pretty well against Dale Hartt in one of the preliminary fights. It looked like he had won the first round, but a little bit into the 2nd, that suddenly didn't matter anymore.
Hill tried to kick Hartt, and Hartt raised his leg to defend it. Their shins hit each other, and Hills leg literally snapped in half. The fight continued for a few moments longer, until the ref realized how serious it was. At first, it looked like Hill may have just stumbled, and Hartt moved in to finish the fight as Hill went down, not yet realizing what had happened.
Announcer Joe Rogan and some other officials ringside began screaming to stop the fight, once they saw the damage to Hill's leg. The referee stepped in and called the fight immediately. Hartt was initially upset, because he felt that the fight had been stopped prematurely, but then he saw Hill's leg and understood.
The fight was officially stopped 20 seconds into the 2nd round.
Hartt obviously felt bad about it after the fight, and had some great things to say about Hill:
"Me and Corey, we cut weight together, we've been talking the whole time, and Corey's an awesome dude, and I wanted to beat him with every bit of my heart, but I don't want to see him like this."
There is video of this and the other fights at the UFC website.
http://www.faniq.com/blog/Corey-Hill-Break...oops-Blog-15925