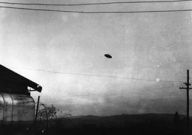 Image credit: Paul Trent, 1950
Greg Taylor: The skeptical superstar team pushing for their own (spectacularly ugly-named) reality TV series - 'The Skeptologists' - have gone out of their way this week to pick on ufology, in particular two researchers: Stanton Friedman and Chris Rutkowski (or maybe they just don't like Canadian residents?). 'Skeptoid' host Brian Dunning rushed into battle with his post "Stanton Friedman Doesn't Like Me". As Dunning points out in his own post though, Stan's probably got good reason not to like him, considering Dunning has previously labeled Stan (and continues to) ďan obsessed UFO wacko."
Now, ufology has plenty of problems - there's no real 'group authority', and plenty of hucksters and deluded people. I'm not criticising them here, because basically they're hucksters and deluded people...whom most people can see right through. Skeptics on the other hand, take on a heavy burden in giving themselves that name - it means they're imposing themselves as guardians or gatekeepers to science and the collective body of human knowledge. As such, when they fail to uphold fairness, and fail to understand something when criticising it, they deserve every bit of blowback that they get.
View
Full Article
|
Source:
Daily Grail