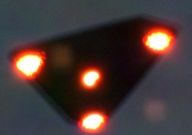 Image credit: JS Henrardi, 1990
A UFO group in Hong Kong has condemned the city's largest university for cancelling a course on ufology because, it said, of faculty objections to the subject.
The course was set to begin last September as an optional subject for University of Hong Kong students in a joint project between the university and the Hong Kong Institute of Ufology, local newspaper Apple Daily reported on Monday.
The course was delayed and discussions were held on offering it at a later date after some academics expressed reservations about its content, Moon Fong, a committee member of the institute, told reporters.
"Some members of the university's science faculty were concerned that the course would present only the views of the UFO experts," Fong said.
View:
Full Article
|
Source:
iol.ca.za