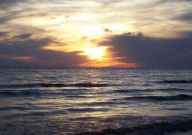 The Lake Michigan triangle is said to have similar characteristics of the Bermuda Triangle and is said to be a place of ghost ships, strange disappearances and even UFO sightings.
"There's been some strange disappearances out there, there's been many ships that have been lost that haven't been found."
Bill Wangemann is a historian from Sheboygan, Wisconsin. He's spent a lifetime gathering tales about the Lake Michigan triangle.
According to author Linda S. Godfrey in her book 'Weird Michigan' (2006), the Michigan Triangle starts from the town of Ludington to Benton Harbor in Michigan; another links from Benton Harbor to Manitowoc, Wisconsin; the final side connects Manitowoc back to Ludington.
View:
Full Article
|
Source:
Phantoms and Monsters