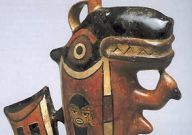 Image credit: Larco Museum
The mystery of why ancient South American peoples who created the mysterious Nazca Lines also collected human heads as trophies has long puzzled scholars who theorize the heads may have been used in fertility rites, taken from enemies in battle or associated with ancestor veneration.
A recent study using specimens from Chicago's Field Museum throws new light on the matter by establishing that trophy heads came from people who lived in the same place and were part of the same culture as those who collected them. These people lived 2,000 to 1,500 years ago.
Archaeologists determined that the severed heads were trophies because holes were made in the skulls allowing the heads to be suspended from woven cords. A debate has been raging for the past 100 years over their meaning.
View:
Full Article
|
Source:
Astigan.com