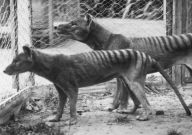 Image credit: Hobart Zoo
Until recently, little was known about the mysterious Tasmanian tiger, but new DNA sequences of the dog-like marsupial shed light on the striped creature's surprising family tree and its extinction 73 years ago.
Researchers now believe the Tasmanian tiger, also called the thylacine, went extinct in 1936 after the death of the last known surviving individual at a Tasmanian zoo, and four decades after genetic diversity within the species dropped to a critically dangerous low.
It's thought that the thylacine's path to extinction, however, began much earlier.
View:
Full Article
|
Source:
MSNBC