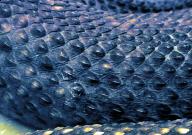 A new species of prehistoric giant boa constrictor, the "Titanoboa", has been discovered. This behemoth of the reptile world lived several million years ago, weighed as much as a car and was as long as a school bus, putting even the most terrifying of Hollywood's giant movie snakes to shame.
"

The largest snake the world has ever known — as long as a school bus and as heavy as a small car — ruled tropical ecosystems only 6 million years after the demise of the fearsome Tyrannosaurus rex, according to a new discovery published in the journal Nature.

Partial skeletons of a new giant, boa constrictor-like snake named "Titanoboa" found in Colombia by an international team of scientists and now at the University of Florida are estimated to be 42 to 45 feet long, the length of the T-Rex "Sue" displayed at Chicago's Field Museum.

"
View:
Full Article
|
Source:
University of Florida