UM-Bot on Feb 17 2009, 10:20 AM, said: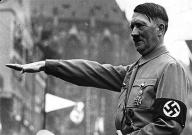 Image credit: NARA
A recent Discovery channel documentary has revealed the untold story of the secretive religion behind nazism.
"

Danny Penman: At first glance, the large circular room in the basement of Wewelsburg Castle appears to be harmless enough. Smooth, finely cut stones pave the floor. Glistening rock walls arch majestically towards a high vaulted ceiling.

In the centre of the room lies a sunken circular alter with polished steps leading towards a burnt and cracked stone. From here you can see thirteen lanterns flickering on the curved walls. But itís only when you look directly upwards that the roomís significance becomes shockingly clear. At the centre of the dome lies a giant swastika.

"
View:
Full Article
|
Source:
News Monster
Check out a book called the Spear of Destiny and the other I think is The Mark of the Beast. Very good info on this subject. Hitler was very much into channeling spirits to take over his body to prepare him and his men for ruling the world. The Arian race was supposed to be the higher race of the fallen Atlantes. He believed that you came back after you died and reincarnated in Tibet.