zrina11 on Apr 23 2009, 11:13 AM, said:
I'm glad you asked!
This is an old urban legend that's been passed down for almost a hundred years in this area.
The legend goes that there was a traveling circus that visited this town and while they were here, one of the elephants died and was buried right outside of town. The grave was supposedly marked with a large piece of limestone which no one of my generation seemed to be able to find, so we all pretty much dismissed it.
Seems that the real story is even more interesting than the legend as it usually is.
The traveling circus was The Mighty Haags and they wintered in Marianna Florida from about 1918(?) until sometime in the early 30's.
They had three elephants, Babe, Tip and Alice. Here's a pic of them.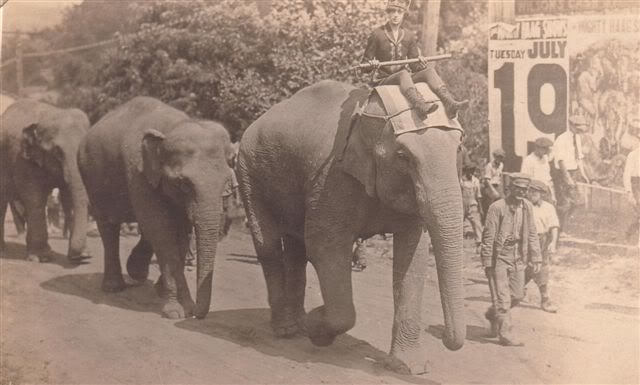 Sometime between 1920 and 1925 while wintering in Marianna, one of the other elephants killed Babe. I can't find any info on whether it was Tip or Alice.
As punishment, the offending elephant was forced to drag Babe as far as they could and when they could pull Babe's lifeless body no further, Babe was buried on the side of what was then a dirt road, but is now a few hundred yards from a bustling little county road and it's paved now.
It's about
20 miles
from Marianna.
The grave was then indeed marked with a large piece of limestone and it's still there today.
I never would have believed it, but I finally ran across a 99 year old gentleman who not only remembered it, but knew exactly where it was and I saw it for myself. I'd post a pic, but I can't get to it right now, because of the flooding here. I'll try to get back out there Sunday to get pics.
Interestingly enough, Tip died in an accident in Edensburg PA, seems he was pushed from a moving truck by none other than Alice.
That may be just another legend, but it is curious because her toe was also wounded in the accident.
Helen Haag was the first woman to do the leg carry from an elephant's mouth, she trained Alice to do it.
Alice hit Helen with her trunk at a show in Virginia. Alice dropped Helen at a show in Chicago causing Helen to break a few ribs.
I'm going to guess that it was probably Alice that dragged Babe the 20 miles to her gravesite.
It's a very sad story, but it's true.
Edited by Pythia, 24 April 2009 - 02:18 AM.