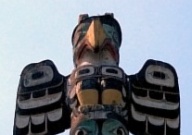 Image credit: Wikipedia
Cryptozoologist Karl Shuker looks back at a case from 1998 in which he received information from a University Professor on a possible stuffed thunderbird being kept in the town of Spanish, Ontario.
"

Karl Shuker: In 1998, I received the following fascinating information of possible relevance to North America's ongoing thunderbird or 'big bird' mystery. And this time it involves something much more substantial than a missing thunderbird photo - nothing less, in fact, than what may be a missing stuffed thunderbird!

"
View:
Full Article
|
Source:
ShukerNature