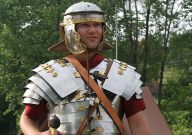 Image credit: Matthias Kabel
A huge ornately carved stone altar has been unearthed during excavations at a Roman fort in England. The relic weighs in at some 1.5 tons, is four foot high and appears to be dedicated to an eastern cult deity.
"

A massive altar dedicated to an eastern cult deity has emerged during excavations of a Roman fort in northern England. Weighing 1.5 tons, the four-foot high ornately carved stone relic, was unearthed at the Roman fort of Vindolanda, which was built by order of the Emperor Hadrian between 122-30 A.D.

"
View:
Full Article
|
Source:
Discovery Channel